Mystery/Thriller Book Reviews
Page Seven of Seven
Paws for Alarm by Marian Babson
St. Martin's Press, May 1998.
Paperback, 220 pages.
ISBN: 0312965133.
Ordering information:
Amazon.com.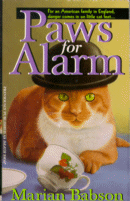 Nancy and Arnold Harper and the twins, Donald and Donna, are looking forward to their summer in England, thanks to a house exchange which allow the Harpers to escape the New England heat to live rent free in a cottage in a genteel village near to London. But something in the cottage doesn't seem quite right, especially when they find out that the husband of the house's owner was recently killed, possibly murdered. When Arnold is attacked it seems that the killer is on his trail, as well -- but why? The Harpers face many challenges on this vacation -- from strange food, odd neighbors and cranky children to a nameless menace which seems determined to make Arnold the next victim.
There is no other author who can create the unique atmosphere which pervades Marian Babson's books: cozy, funny and yet with a sense of menace underlying it all. While laughing at the misadventures of an American family in England you'll nevertheless feel an uneasiness at what might be lurking around the next chapter. A fun, fascinating and, at times, frightening tale which is addictive. Once you've read one Marian Babson, you'll simply have to read the rest of her books.
---
Spiced to Death by Peter King
St. Martin's Press, April 1998.
Paperback, 293 pages.
ISBN: 0312965001.
Ordering information:
Amazon.com.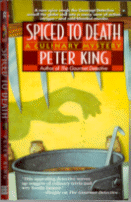 Spiced to Death
is the follow up to Peter King's first mystery novel starring the British chef turned culinary sleuth, the Gourmet Detective. This time, the Gourmet Detective has been hired to fly to New York to authenticate an extremely rare and valuable spice rumored to possess healing and aphrodisiac powers which no one has seen in over 500 years called Ko-Feng. After rigorous testing at the airport, the spice is pronounced to be authentic, but when the shipment arrives at the buyer's office the spice is gone -- somehow it's been stolen between the time of the authentication at the airport and the arrival at the buyer's office. When the other culinary expert present at the authentication turns up dead, suddenly the Gourmet Detective is the prime suspect in both the murder and the robbery. Determined to clear his name and find the murderer of his friend, the Gourmet Detective sets off on a voyage of culinary exploration which will take him through the entire food community of New York. Aided by one of New York's finest, an attractive detective who goes by Gabriella in her off hours, the Gourmet Detective encounters action, adventure and, of course, lots of fabulous food in his search for the truth.
Peter King's second novel is an absolute delight for mystery lovers and food lovers alike. His wry, sharp humor combines nicely with the inside look at the world of restaurants, chefs and the people who supply them with those hard to find ingredients. A treat to be savored.
---
Wed and Buried by Mary Daheim
Avon, Feb., 1998.
Paperback, 299 pages.
ISBN: 038078520X.
Ordering information:
Amazon.com.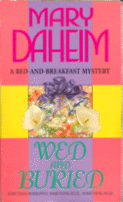 B&B owner Judith McMonigle Flynn is feeling a bit stressed about her son Mike's upcoming wedding. The charming bed and breakfast is bursting at the seams with her future daughter-in-law's bizarre family -- except for Uncle Gurd, who feels compelled to sleep under the neighbor's hedge. While at the rehearsal dinner, Judith is looking out the window when, to her horror, she sees a man in a tuxedo throw a woman in a bridal gown off the nearest building. At first, no one can find a body, but Judith perseveres. Against the orders of her policeman husband Joe, Judith sets out to investigate the murder that she feels sure she saw happen. When a body does turn up, Judith's sleuthing takes a serious turn when it looks like the murderer is still hanging around. With her faithful cousin Renie, Judith is hot on the trail -- when she's not arguing with her ghastly new in-laws or trying to conceal her sleuthing from her understandably annoyed husband who is in charge of the official investigation.
Mary Daheim has charmed legions of readers with her bed and breakfast series, and
Wed and Buried
should only add to the number of her fans. Judith and Renie make a wacky and appealing investigative team and their adventures are sure to amuse. The characters are well-drawn and the plot is tightly woven. A friendly and appealing series.
---
Mystery Reviews
Page One | Page Two | Page Three | Page Four
Page Five | Page Six | Page Seven

Click Here to Return to the Book Reviews Index




---
More from Writers Write
---