Mystery/Thriller Book Reviews
Page Four of Seven
Death Hits the Fan by Jacqueline Girdner
Berkley Prime Crime, April 1998.
Hardcover, 279 pages.
ISBN: 042516148X.
Ordering information:
Amazon.com.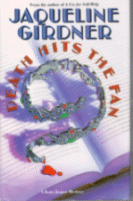 Amateur sleuth and entrepreneur Kate Jasper and her husband are attending a science fiction author signing at their favorite independent bookstore where three popular authors are scheduled to speak and sign books. During Yvette Cassell's interminably boring recitation about her main character, an alien trapped on earth to solve crimes, the elegant and successful Shayla Greenfree puts on a bracelet left at her place -- apparently a gift from a fan -- and keels over, gasping out Kate's name just before she passes out. The autopsy shows that she was poisoned, apparently from needles rigged inside the mysterious bracelet. Kate who is now a suspect in the murder sets out to investigate the bizarre death and the possible motives of the two other authors at the signing, fans in the audience and various other odd characters who hang around the Fictional Pleasures Bookstore.
Death Hits the Fan
is a hilarious mystery which continues the offbeat adventures of amateur sleuth and ardent vegetarian Kate Jasper and her long suffering significant other, Wayne. The characters are quirky and funny and the antics of the feuding SF authors are truly funny. A fresh and fun respite from the everyday world.
---
Misleading Ladies by Cynthia Smith
Berkley Prime Crime, Dec., 1997.
Paperback, 257 pages.
ISBN: 0425161129.
Ordering information:
Amazon.com.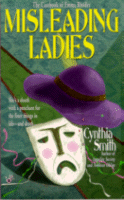 Former attorney Emma Rhodes is a Private Resolver: for $20,000 she will solve any private problem in two weeks or she doesn't get paid. With her beauty, her charm and a 100% success rate, she picks only those cases which interest her. While on the way for some rest and relaxation, Emma meets Juliet Bishop, a Baronet's daughter who is on the verge of leaving her husband because of his unbearable and unfounded jealousy. Emma's investigations will take her to Europe and back to England as she sorts out the complex family relationships (including two ex-wives) which all center around Juliet's wealthy and somewhat mysterious husband Sidney who insists on generously supporting his former wives. When one of the ex-wives is murdered, it's up to Juliet to save a marriage and save the remaining ex-wife.
As with all the books in this vastly entertaining series,
Misleading Ladies
is a treat to read. The beautiful, fashionable and irreverent Emma is a joy to tag along with as she jet-sets around Europe charming and bullying her way to the truth. A unique, fresh and absolutely delightful read.
---
Mystery Reviews
Page One | Page Two | Page Three | Page Four
Page Five | Page Six | Page Seven

Click Here to Return to the Book Reviews Index




---
More from Writers Write