Mystery/Thriller Book Reviews
Page Two of Seven
The Genesis Code by John Case
Ballantine, April 1998.
Paperback, 467 pages.
ISBN: 0345422317.
Ordering information:
Amazon.com.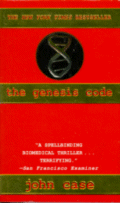 Joe Lassiter is horrified when hears his sister and her son have been killed and their house has burned to the ground. He is even more horrified when he finds out it was arson and that they were murdered before the arson took place. Lassiter, who has become a millionaire from his self-started business, takes a leave of absence from work to attempt to solve his sibling's and her son's murders. His investigation uncovers other similar murders involving a mother and child and arson and that each mother coincidentally underwent artificial insemination at an Italian clinic run by a famous geneticist, who is now deceased. Lassiter finds that all the women who attended the clinic and underwent the same procedure as his sister and the children they conceived are dead, except for one mother and her son -- who can not be located. Realizing that he may be the only surviving family's last chance, Lassiter begins a race to find and rescue the last remaining woman and her child before they too become victims.
The Genesis Code
is a masterfully contrived novel that pulls the reader along with anticipation into every scene. The riveting action never stops until the surprising finish. An excellent, thought-provoking scientific thriller from pseudonymous author John Case.
---
Rogue Warrior: Seal Force Alpha by Richard Marcinko
Pocket Books, March 1998.
Hardcover, 322 pages.
ISBN: 0671000675.
Ordering information:
Amazon.com.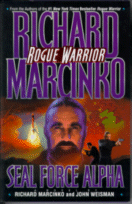 In his latest action thriller
Seal Force Alpha
, "Demo" Dick Marcinko blows away the competition. This fast-paced thriller is the fifth in the extremely successful series by the former navy SEAL Richard Marcinko who really knows his way around the world of special operations, government intrigue and hi-tech gadgetry. Brutal action, high-tech toys and foul mouthed bravado are the cornerstone of the Rogue Warrior series. This time out, Marcinko and his fictitious band of swashbuckling characters are up against the Red Chinese who, with the help of some twisted Washington bureaucrats, are out to destabilize the U.S. and make her a second rate power. The Rogue Warrior and his merry band of commandos must scuttle a Chinese ship carrying dangerous nuclear cargo. Marcinko fans will not be disappointed as profanity flies as fast as the bullets and explosives. Lock and load, fire up a stogie, get a glass of Bombay on the rocks and enjoy the ride.
--James A. White, Jr.
---
Mystery Reviews
Page One | Page Two | Page Three | Page Four
Page Five | Page Six | Page Seven

Click here to Return to the Book Reviews Index




---
More from Writers Write