Mystery/Thriller Book Reviews
Page Five of Seven
Mrs. Jeffries Questions the Answer by Emily Brightwell
Berkley Prime Crime, Nov., 1997.
Paperback, 259 pages.
ISBN: 0425160939.
Ordering information:
Amazon.com.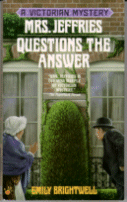 In Victorian England, Inspector Witherspoon of Scotland Yard is a rising star on the force. His brilliant deductions have led to the solution of numerous baffling homicides. What no one (including Witherspoon himself) knows is that Witherspoon's success is due almost entirely to his domestic staff, led by his brilliant and tactful housekeeper, Mrs. Jeffries. With her trusty staff including Betsy the maid, Mrs. Goodge the cook and the other domestics and their contacts which reach throughout London, Mrs. Jeffries provides the clues to her employer (in an oblique and discreet manner) which will enable him to solve each case. The latest case is the death of the universally despised Hannah Cameron who was killed in her own home, apparently while surprising a burglary in progress. But Mrs. Jeffries isn't so sure it's a simple robbery and murder, so she enlists the staff to track down the killer. Hampered by the need for secrecy in their investigations, the visit of Mrs. Goodge's elderly mother, and the depression of their beloved Inspector because of a rival Inspector's attempt to take over the case, the loyal staff has its work cut out for them.
Emily Brightwell creates a fine addition to this beloved and charming series with her latest book. The background of Victorian England combined with the interaction between the diffident Inspector and his energetic and clever staff make for a thoroughly enjoyable and entertaining read.
---
Mrs. Pargeter's Plot by Simon Brett
Scribner, Jan., 1998.
Hardcover, 249 pages.
ISBN: 0684837145.
Ordering information:
Amazon.com.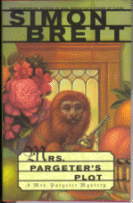 British widow Melita Pargeter has decided to start construction on a new country house with the inheritance she received from her beloved, if somewhat nefarious, late husband. While investigating the construction site with the builder, Concrete Jacket (one of her late husband's many shady, but loyal associates) they stumble across a dead body in the new wine cellar. What's worse is that Concrete had exchanged words with the dead man before his death and it appears that he was shot with Concrete's own gun. Deciding that her house will never be built if her contractor is in jail for murder, Mrs. Pargeter takes matters into her own hands and starts investigating. With the help of her late husband's bewildering array of colorful employees and associates, she sets on the trail of a murderer who will not hesitate to kill again to protect a perfect scheme for defrauding cons of their retirement funds.
Mrs. Pargeter's Plot continues the madcap adventures of Mrs. Pargeter and her late husband's old cronies who boast an amazing array of illegal and useful skills which are just perfect for assisting in a murder investigation. With crisp writing and an endearing amateur sleuth, this latest outing is sure to delight both old and new Simon Brett fans.
---
Page One
|
Page Two
|
Page Three
|
Page Four
Page Five
|
Page Six
|
Page Seven
Click Here to Return to the Book Reviews Index
---
More from Writers Write
---