Mystery/Thriller Book Reviews
Page Six of Seven
Murder Olé by Corinne Holt Sawyer
Fawcett Crest, April 1998.
Paperback, 260 pages.
ISBN: 0449000346.
Ordering information:
Amazon.com.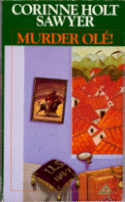 The residents of the plush retirement community Camden-sur-Mer want for nothing -- except maybe a little excitement. So they decide to take several day trips to Tijuana, just over the border from nearby San Diego. The trip seems to be going fine with everyone enjoying the festivities associated with The Day of the Dead, or Halloween in the U.S., when one of the more irritating residents dies of a heart attack on a carnival ride. Then, on the second trip another of the tour party is murdered on a lonely beach in Ensenada. At that point amateur senior sleuths Caledonia Wingate and Angela Benbow decide to take matters into their own hands and find out what exactly is going on. With a tourbus full of suspects and yet a third trip to Mexico in the offing, the two intrepid friends will find enough mystery and intrigue to chase away any retirement home blues they may have been feeling.
This is the 7th adventure for Angela and Caledonia, who keep getting better and better as time goes on. The characters are spirited, not cliched and the travelogue will make readers want to pick up the phone and book their next trip to Mexico. An excellent, lighthearted and fun adventure.
---
No Place For Sin by Sherry Lewis
Berkley Prime Crime, Dec., 1997.
Paperback, 252 pages.
ISBN: 0425161137.
Ordering information:
Amazon.com.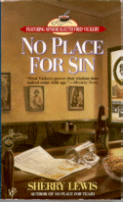 At 73, widower Fred Vickery feels lucky to be in good health (well, except for that pesky cholesterol report) and to live in the charming small town of Cutler, Colorado. If only his nosy son weren't insistent that he give up his house and move into some retirement home! But Fred has no intention of leaving Cutler, of giving up his favorite meal of country fried steak, mashed potatoes and cream gravy, or of giving up his favorite hobby -- acting as an amateur sleuth. So when the obnoxious Lenore Irvine is found dead after a nasty brawl at the Copper Penny over the controversial issue of whether legalized gambling should be brought to Cutler, Fred decides to poke his nose in and investigate, whether or not the Sheriff likes it. But Fred gets more than he bargained for when the trail leads straight to his good for nothing son-in-law and his daughter begs him to help clear her husband's name. Caught in a trap of conflicting loyalties and danger from a murderer who won't hesitate to kill again, Fred will have to use all his accumulated years of experience to find the murderer and heal the painful wounds of his daughter's disastrous marriage.
Seventy-something Fred Vickery is a likeable hero with a crusty and somewhat grumpy exterior and a wise, kind and unexpectedly brave heart underneath. His struggles with growing older and dealing with his domineering son and his unhappy daughter are dealt with in a sensitive, yet realistic manner. With an interesting plot and diverse characters,
No Place for Sin
is a welcome addition to this fine series.
---
Mystery Reviews
Page One | Page Two | Page Three | Page Four
Page Five | Page Six | Page Seven

Click Here to Return to the Book Reviews Index




---
More from Writers Write