Mystery/Thriller Book Reviews
Page Three of Seven
The Cat Who Tailed a Thief by Lilian Jackson Braun
Jove, March 1998.
Paperback, 263 pages.
ISBN: 0515122408.
Ordering information:
Amazon.com.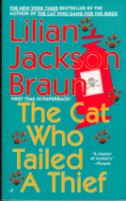 In this 19th outing in The Cat Who series a series of small thefts has the Pickax residents up in arms and more than one person has noticed that the thefts occurred after banker Willard Carmichael, his trashy wife Danielle and her smooth talking cousin moved to town. To make matters worse, the area is suffering from an unseasonable warm spell which is threatening to ruin the Winter Ice Festival. When Willard is murdered in an apparent mugging Down Below and Danielle's cousin wants to move forward quickly with his plans for the restoration of the Pleasant Hill residential district (which will net him a tidy income) local millionaire and retired journalist Jim Quilleran is suspicious -- especially when the cousin quickly marries an heiress who conveniently dies in a freak accident on their honeymoon. With the help of his two Siamese cats, Koko and Yum Yum, Quilleran decides to investigate. Along the way he gets talked into wearing full Highland dress while serving as best man at a wedding, writing a column for the Moose County Something about the naming of cats, and examining a local collector's formidable doll collection.
As always, the quirky characters which people Pickax combined with the antics of Koko and Yum Yum provide a diverting and amusing tale. Braun fans will settle back for another enjoyable romp in Moose County, the county that is "400 miles north of everywhere."
---
The Cold Hard Fax by Leslie O'Kane
Fawcett Gold Medal, May 1998.
Paperback, 278 pages.
ISBN: 044900158X.
Ordering information:
Amazon.com.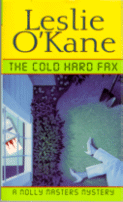 Cartoonist and happily married mother of two Molly Masters loves her new house in Carlton, New York. However, the former owner of the house Helen Raleigh is somewhat less than lovable and insists on telling Molly at great length what needs to be done in the yard and garden of her former abode. One day while Molly is on the telephone she hears a gunshot and sees the detestable Helen fall dead right in front of her window. Apparently Helen had been digging up something in Molly's yard. As the investigation into Helen's death progresses, a rather shocking secret about Helen comes to light -- apparently she wasn't quite who or what she claimed to be. When yet another neighbor turns up dead, Molly decides to take matters into her own hands and track down the murderer, encountering hostility from her neighbors, threatening faxes and some disturbing information about her supposedly serene neighborhood.
Leslie O'Kane has penned a winner with her latest Molly Masters mystery. Molly is a likeable heroine whose internal thought processes and running commentary on her neighbors are vastly entertaining. With skillfully drawn family relationships and an enjoyable plot,
The Cold Hard Fax
is a wonderful diversion.
---
Mystery Reviews
Page One | Page Two | Page Three | Page Four
Page Five | Page Six | Page Seven

Click Here to Return to the Book Reviews Index




---
More from Writers Write
---