Mystery/Thriller Book Reviews
Page One of Seven
Digital Fortress by Dan Brown
St. Martin's Press, Feb., 1998.
Hardcover, 371 pages.
ISBN: 031218087X.
Ordering information:
Amazon.com.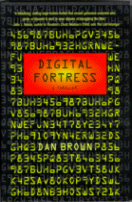 The ultra-secret NSA (National Security Agency) is responsible for monitoring and protecting the U.S. communications. Its secret weapon is the multi-billion dollar supercomputer called TRANSLTR which can instantly decode any encrypted message in cyberspace, allowing the NSA to stop numerous terrorist threats, some of them nuclear. TRANSLTR can decode almost instantly any message sent and intercepted anywhere in the world over the Internet -- until now. When TRANSLTR meets a code it cannot break, the agency calls in its top cryptographer Susan Fletcher, a beautiful and brilliant mathematical genius, and her fiancé, David Becker, a professor and foreign language specialist who has assisted the NSA before. While Becker is dispatched to Spain to retrieve the password to the new code which disappeared after Tankado's murder, Susan starts to dig into the origins of the mysterious code known as Digital Fortress, finding layers upon layers of shocking secrets, lies and betrayals. Programmed by computer genius Ensei Tankado, Digital Fortress could literally topple the U.S. government and open the world to terrorist annihilation. Tankado is blackmailing the U.S. Government from his grave and the race is on to find Tankado and break the code before the U.S. government's entire security system is irretrievably breached giving terrorists access to everything including nuclear missile launch codes.
Digital Fortress
is an exciting and thought-provoking debut from author Dan Brown. With nonstop action, intrigue and a fascinating plot
Digital Fortress
is an example of the techno-thriller at its very best. But what makes
Digital Fortress
stand out from the crowd are its other elements: a real love story and an examination of the struggles between right and wrong and protection of the public versus the preservation of that same public's privacy. The issues raised in
Digital Fortress
concerning privacy of communications and the very real threat of terrorism will have readers thinking about
Digital Fortress
long after they have put the book down. Brown does an excellent job at presenting technological wizardry and cutting edge intelligence information in such a way so as to please techno lovers and yet make the complex subject of encryption interesting and easy to understand. A must read for lovers of intrigue, thrillers and for anyone who loves an exciting story with a complex, layered plot and intriguing characters.
--Claire E. White
---
Extreme Justice by William Bernhardt
Ballantine, Feb., 1998.
Hardcover, 291 pages.
ISBN: 0345407377.
Ordering information:
Amazon.com.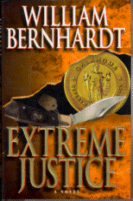 Ben Kincaid is an ex-lawyer who is living a stress-free life as a jazz musician in a local club. He has left his successful legal career to follow his dream of being an amateur jazz pianist. However, his legal career won't leave him alone. One evening in the bar as he and his band are about to perform a body falls from an overhead lamp shade. The dead body belongs to a beautiful young woman and a ghastly smile has been carved into her face. The body belongs to Cajun Lilly, a singer and an ex-girlfriend of the club owner, Earl Bonner. The cops quickly blame Bonner for the murder, because of his prior conviction for the murder of a man who died in a similar fashion with a grotesque smile carved in his face. Kincaid feels his friend Bonner is innocent of both murders and re-enters the legal realm again as Bonner's lawyer. As Kincaid digs deeper, he finds himself in for a tough case with his own life in danger from the gruesome murderer -- whoever it may be.
Extreme Justice
is an exciting and entertaining thriller. Author William Bernhardt's characters are likeable and readers will indentify with Kincaid, the lawyer who just wants to get away from it all -- but can't. Another excellent installment in the "Justice" series of courtroom drama.
---
Mystery Reviews
Page One | Page Two | Page Three | Page Four
Page Five | Page Six | Page Seven

Click Here to Return to the Book Reviews Index




---
More from Writers Write