Writing Prompts
Writing prompts help inspire and motivate writers to write. Writing prompts can help break writer's block by sparking your brain to think creatively. They can also be used to start a story, which is why they are also known as "story starters." Writing prompts come in different formats, including text, photographs and word puzzles. Our prompts can be used to inspire stories, poems, journal entries and more. You can find even more prompts resources at the end of this page. Get out your pen, pencil or laptop - or site at your desktop - and get ready to write.
Describe Your Character's Favorite Dish
(
8-1-18
)
How well do you know your characters? Can you describe in detail one of your character's favorite meals? Is this meal a big experience for them? How is it related to their past?
Create a Character To-Do List
(
6-27-18
)
Create a to-do list for one of your characters. What are their plans for the day or week ahead?
I'm Feeling Curious Writing Prompt
(
5-27-18
)
Random Facts can spark your creativity. Use a random fact generated with the help of Google to spark an idea for a story, poem, journal entry or scene.
Create a Mary Sue
(
5-17-18
)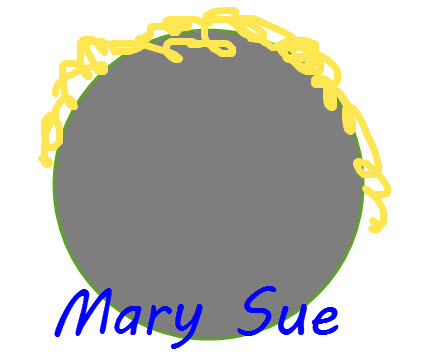 Mary Sue needs you. It is time to create an ultra perfect character - a true Mary Sue. She can be an idealized version of yourself.
Be the Writer for an Abandoned Character
(
5-4-18
)
In Luigi Pirandello's classic play, "
Six Characters in Search of an Author
," the characters wander into a rehearsal of another play in search of a new author. Imagine a poor character has been abandoned by his or her author. This forsaken character is looking to you and asking, "Will you be my author?"
Add a Cat
(
4-22-18
)
Add a cat to one of your stories. What role could the cat play? Alternatively, you could write a poem about a cat or a journal entry about what your cat did this week.
Use a Riddle
(
4-14-18
)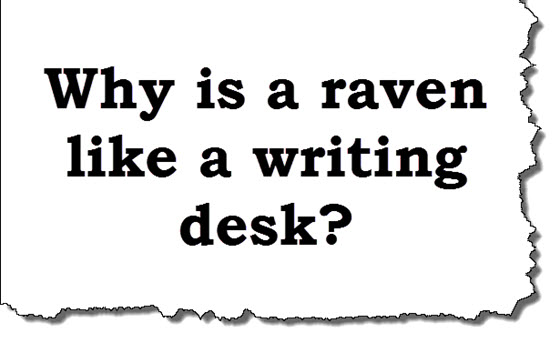 The Mad Hatter asks the curious riddle "
Why is a raven like a writing desk
" in
Alice's Adventures in Wonderland
. Find a way to incorporate a riddle into a story. Do you have a character that likes riddles? Is there a riddle that needs to be solved by your characters as part of an adventure?
Twist Your Story
(
4-9-18
)
You probably have a number of unpublished stories. Select one of them and rewrite it from the point of view of a different character. You might be able to go deeper with a minor character or maybe the main villain has hidden depths. You could also add a more sinister villain to a story that does not really have one. If your story is not getting published it could be time to rethink it. Mix it up.
Stolen Glasses
(
3-27-18
)
Write a story where an item of seemingly little value is stolen and a ransom note is left. This actually happened to author Jonathan Franzen when his glasses were
stolen
at a book launch party.
David's Tools
(
3-21-18
)
David might be up to something nefarious. Has he made a crucial error?
The Amazing Gift
(
3-14-18
)
"Two days ago Mary would have told anyone that she every boy in her school. Today, she was sitting underneath a tree in the park holding the amazing box in disbelief. She couldn't believe he had given her this.
Scary Words Horror Prompt
(
3-7-18
)
Use one or more of of the scary words or phrases below to write a horror poem or short story. If you choose a story, which one of your characters will die? Who will survive?
Writing Prompt Resources
We will continue to add new original prompts above page but you don't have to worry. Writing prompts are not a scarce resource. They are all over the Internet. They can be found on social media, on writing sites and in forums. Here are a few good spots to find more free writing prompts:
Short Story Ideas
: Your own mind and the world around you can also help you come up with ideas.
Poetry Prompts
: Our poetry prompts page can inspire you to write a poem. It might even inspire you to write a short story.
Journal Prompts
- Our journal prompts can help you keep the entries in your journal flowing. No more looking at blank page.
Writing Prompts for Kids
- Find resources that contain writing prompts for kids. These could also be used by creatively thinking adults.
Writer's Digest Prompts
:
Writer's Digest
has a prompts section that is updated weekly. You can write and leave a response to the prompt in the comments section.
Writing Prompts Tumblr
: The Writing Prompts Tumblr blog has a lot of different writing prompts in addition to text. It also uses photographs and puzzles to get you thinking.
Reddit Writing Prompts
: The Writing Prompt Reddit is a great source for inspiration. In addition to prompts there are also command-like prompts, such as " Just write a nice story about someone having a good day."
Writing Prompts on Twitter
: A search for "writing prompts" on Twitter brings up the latest prompts Twitter users are sharing. Some of them are quite good.
The Time Is Now
: The Time is Now from
Poets & Writers
provides a weekly writing prompt in addition to poetry prompts. The section uses recent events, famous writers and famoue literature to come up with writing prompts and exercises.
Writing Prompts on Pinterest
: A search for writing prompts on Pinterest will provide many pinned graphic images of writing prompts to spark your creativity.
Story Starters at The Literacy Shed
- The Literacy Shed has a collection of over 50 different story starters.
The Writer Writing Prompts
:
The Writer
magazine has a big collection of over 150 writing prompts with new ones added frequently.