Use a Riddle Writing Prompt
Posted on April 14, 2018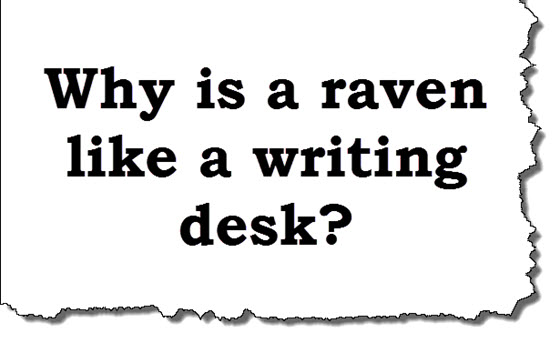 The Mad Hatter asks the curious riddle "
Why is a raven like a writing desk
" in
Alice's Adventures in Wonderland
. Find a way to incorporate a riddle into a story. Do you have a character that likes riddles? Is there a riddle that needs to be solved by your characters as part of an adventure? You could also use the riddle you come up with in a poem. Put on your Mad Hatter hat and get riddling.
Return to the
writing prompts
homepage for more prompts.
More from Writers Write
Melania Trump Reads The Little Rabbit by Nicola Killen for Easter

Val Kilmer Publishing Memoir with Simon & Schuster

Cats Film Could Boost Interest in T.S. Eliot's Poetry Despite Box Office Losses