Prince Harry Easily Tops Bestseller Lists With Spare
Posted on January 10, 2023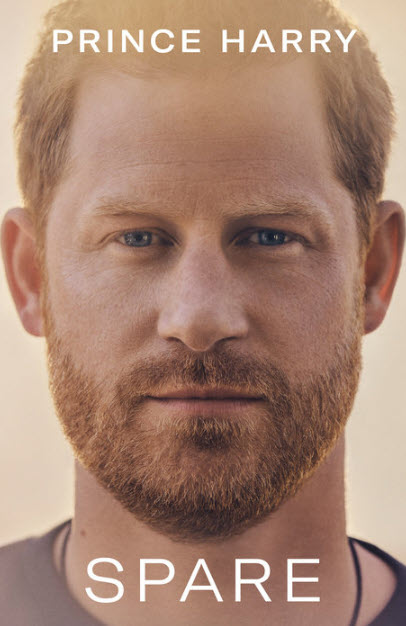 Prince Harry has topped bestseller lists with his memoir Spare. The book has generated a massive amount of press over the past couple weeks with its shocking and unexpected revelations. It arrives in bookstores today.
The publicity for the book included a big interview with Anderson Cooper on 60 Minutes. Many online media sites have carried multiple stories at a time with revelations from the book. At one point The Daily Mail was covered with Prince Harry stories. Some of the big stories have included Harry's fight with his brother, an early relationship with an older woman, Harry's drug use including psychedelics and Harry revealing how many enemy combatants he killed as a soldier.
A BBC story says not all of the early leaks were planned but they have helped generate interest in the book much more than have reduced it. Philip Jones, editor of The Bookseller, told BBC, "I think they will be a little bit annoyed it has come out before the book is released, but I'm sure they will be delighted it is dominating the headlines around the world at a time when they want to increase pent-up demand ahead of publication on Tuesday."
Is there too much coverage? Harry's royal family would no doubt like it stop but so far the massive coverage has not turned off readers. A story in The New York Times says coverage fatigue won't be a problem initially for book sales. Random House has already printed 2.5 million copies for the North American market.
It is clear that Spare will go on to be one of the top selling books for 2023. It is already the bestselling book online at Amazon.com and Barnes & Noble. New revelations as the media and public comb through Prince Harry's memoir will also probably keep in it generating new headlines for months to come. These are the types of revelations that sell memoirs but they may end up being very costly to Harry personally. The media coverage of Spare will eventually turn to a "was it worth it?" for Prince Harry angle once sales for the book start to wind down.
Image: Penguin Random House
---
More from Writers Write
---
---