Mystery/Thriller Book Reviews
Page Four of Five
The Death of a Constant Lover by Lev Raphael
Walker & Co., April 1999.
Hardcover, 276 pages.
ISBN: 0802733263.
Ordering information:
Amazon.com.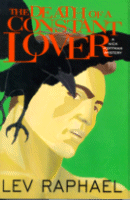 Nick Hoffman, beleaguered professor of Rhetoric at the State University of Michigan and sometime amateur sleuth, has decided to take his partner Stefan's advice to have lunch near the Michigan River to exorcise his old demons (he once discovered a dead body in the river). Unfortunately, the advice backfires and Nick is on the scene for yet another murder. This time, the victim is one of Nick's former students, Jesse Benevento, who was stabbed during a near-riot. When another body appears, Nick is dragged unwillingly into another murder investigation, which he just
knows
is not going to help his chances of getting tenure.
This is the third entry in the delightfully addictive Nick Hoffman series (
See
,
Let's Get Criminal
and
The Edith Wharton Murders
). The versatile Lev Raphael is a talented satirist who skillfully skewers the pretensions of the academic world, where professors participate in deadly duels of wit and engage in intrigue worthy of characters in a Le Carré novel. The relationship between Nick and Stefan is explored in more depth, and has a slightly darker tinge than the first two books in the series. As is usual with Raphael's books, the writing is witty and laugh-out-loud funny in places -- you'll find it impossible to put this one down once you start reading. Highly Recommended.
--Claire E. White
---
Par Four by Elizabeth Gunn
Walker & Co., Jan., 1999.
Hardcover, 291 pages.
ISBN: 0802733247.
Ordering information:
Amazon.com.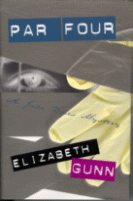 Lieutenant Jake Hines has just earned a promotion to Chief of Detectives. And from the way the local crimes have been escalating, he feels more like the Chief of Detectives of New York City than of Rutherford, Minnesota. A burglary of a local watering hole turns into a double homicide, a little girl has been kidnapped and there seems to be a marked increase in crack dealing. Add in problems in his love life, and you have a recipe for a world-class headache for Hines. But Hines seems well-up to the challenge, and sets out to get his town in order.
Jake is a likeable guy, and the residents of Rutherford make for entertaining reading. Police procedural fans will be pleased with this more than capable follow-up to Gunn's first novel starring Jake Hines,
Triple Play
.
---
Mystery Reviews
Page One | Page Two | Page Three | Page Four | Page Five

Click Here to Return to the Book Reviews Index




---
More from Writers Write
---