Mystery/Thriller Book Reviews
Page One of Five
Aquarius Descending by Martha C. Lawrence
St. Martin's Press, Jan., 1999.
Hardcover, 296 pages.
ISBN: 0312198299.
Ordering information:
Amazon.com.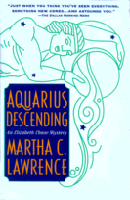 Psychic detective Dr. Elizabeth Chase is back in her third adventure. Her boyfriend, FBI agent Tom McGowan, asks Elizabeth to take on the case of his missing ex-fiancee. The family believes she is being held hostage by a cult that she joined several years ago. The Bliss Project is an alarming organization, which, according to one ex-member, uses guerilla tactics to strong-arm any opposition, as well as mind-control techniques, on its inductees. After some initial reluctance to take the case, Elizabeth agrees to go undercover as a new member of the cult to find out what happened to Tom's ex. But it appears that Elizabeth may have seriously underestimated her opponents, and it's soon clear that her own life is in danger.
Aquarius Descending
is not what you might expect from a book starring a "psychic detective." Elizabeth is a smart, practical, down to earth private investigator who happens to be able to sense things that others can't. She can sometimes see pictures or images which can be helpful in a case, but she cannot control the phenomenon. But this case is solved more through standard detective work, than by psychic experiences. Lawrence takes a standard plot (detective goes inside evil organization to expose it) and makes it fresh, suspenseful and believable. Another page-turner from the talented Lawrence.
--Claire E. White
---
The Big Bad City by Ed McBain
Simon and Schuster, Jan., 1999.
Hardcover, 271 pages.
ISBN: 0684855127.
Ordering information:
Amazon.com.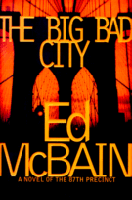 It's a typically steamy August day in McBain's fictional city (which bears a striking resemblance to New York) and detectives Carella and Brown are faced with the dead body of an attractive young girl wearing a nun's ring. Carella and Brown launch an investigation, unaware of the fact that the killer who murdered Carella's father is now stalking Carella as well. Meanwhile, detectives Meyer and Kling are concentrating on the pawnshops to get a lead on the notorious Cookie Boy, a burglar who leaves freshly-baked chocolate chip cookies at the scenes of his crimes.
The great thing about the 87th Precinct series is that it is as accessible to long-time fans as to new readers. An acknowledged master of the police procedural, McBain is the only American to have won the Diamond Dagger Award, and he is also a past recipient of the Mystery Writers of America Grand Master Award. With
The Big, Bad City
, McBain effortlessly weaves another gritty, intense tale packed with passion and humor. The characters have grown in complexity over the years (Carella is actually approaching 40) and their interaction is compelling and real. Another top-notch entry from McBain.
---
Mystery Reviews
Page One | Page Two | Page Three | Page Four | Page Five

Click Here to Return to the Book Reviews Index




---
More from Writers Write
---