Mystery/Thriller Book Reviews
Page Two of Five
Blue Rain by Chuck Freadhoff
HarperCollins, April, 1999.
Hardcover, 330 pages.
ISBN: 0060192178.
Ordering information:
Amazon.com.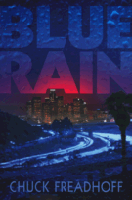 Investigative reporter Johnny Rose has a nose for an unusual story, and he finds one in the middle of the Mohave Desert where a man's dead body appears, as if it simply dropped from the sky. The body is eventually identified by the dog tags the man was wearing -- he was a soldier lost in Viet Nam. When Johnny's Vietnamese friend is murdered before he can give Johnny details of the seemingly impossible sighting of a soldier listed as missing 30 years ago in Laos, Johnny knows he's stumbled onto something big. When he is framed for the murder of his friend, he sets out to solve the mystery and exonerate himself.
Chuck Freadhoff has written an exciting and believable thriller with
Blue Rain
. Johnny is a likeable hero, with a gift for finding things out and some human foibles. The subplot with Johnny and his brother, who is still suffering from his experiences in Viet Nam, is moving and the characters ring true. Altogether, a very appealing read which mystery and thriller lovers will enjoy.
--Claire E. White
---
Bluebottle by James Sallis
Walker & Co., 1998.
Hardcover, 161 pages.
ISBN: 0802733239.
Ordering information:
Amazon.com.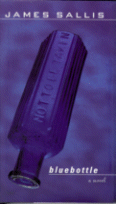 Lew Griffin has had better days. He awakes from a coma to find that he's lost the better part of a year of his life. The last thing he remembers clearly is leaving a bar with an older white woman he'd just met, when he's hit by a gunshot. Now he's got to try to put his life back together and find out what happened. His quest will take him to some of the seedier sides of New Orleans, into contact with a white supremacist movement that seems to be gaining momentum, and bring him face to face with a past he doesn't recognize.
This is the fifth entry in the insect-named series featuring Lew Griffin (
See
,
Eye of the Cricket
etc.) Sallis' writing is a joy to read. Languid, poetic and evocative, it meanders along at its own pace. The destination is not really the point in Sallis' books -- just climb aboard and enjoy the ride.
--Claire E. White
---
Mystery Reviews
Page One | Page Two | Page Three | Page Four | Page Five

Click Here to Return to the Book Reviews Index




---
More from Writers Write
---