Mystery/Thriller Book Reviews
Page Three of Five
The Burglar Who Painted Like Mondrian by Lawrence Block
Dutton, Dec., 1998..
Hardcover, 234 pages.
ISBN: 052594382X.
Ordering information:
Amazon.com.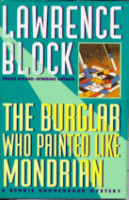 Antiquarian book dealer Bernie Rhodenbarr (who occasionally morphs into a gentleman burglar at night) agrees to appraise the private library of Gordon Onderdonk, a millionaire who lives in the exclusive highrise, The Charlemagne, in Manhattan. After doing the appraisal, Bernie stays on for a little after-hours burglaring. But when he returns to Onderdonk's apartment to relieve him of the valuable Mondrian painting (in order to ransom his best friend's kinapped feline), he finds an attractive live female and a dead body. The plot gets considerably more complicated after that as Bernie tries to rescue Carolyn's cat, clear himself of a murder charge and sort out a number of Mondrians -- some of which must be fakes.
This is a hardcover reprint of the popular fifth entry in the "burglar" series starring gentleman burglar and bookstore owner Bernie Rhodenbarr. What makes this series so appealing are the characters: the witty, urbane Rhodenbarr who has his own code of morality, his lesbian best friend Carolyn, who is always teetering on the edge of a full-blown neurosis, and Ray, the cop who's always trying to catch Bernie in another crime. Block is an expert at farce, and never goes over the edge. The repartée is witty and the humor is sharp in this fast-paced charmer. Another gem for Rhodenbarr fans.
--Claire E. White
---
Dark Justice by William Bernhardt
Ballantine Books, Jan., 1999.
Hardcover, 389 pages.
ISBN: 0345407385.
Ordering information:
Amazon.com.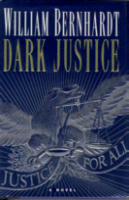 Lawyer and novelist Ben Kincaid is on a book tour in the Pacific Northwest. He stops for a signing in Magic Valley, a small logging community. Hardly anyone attends his book signing, but he does encounter an opportunity for a new client after he is thrown in jail for trying to rescue a cat. In the jail cell next to his Kincaid meets George Zakin, a member of Green Rage, an environmental activist group (known as "eco-terrorists" by the local loggers), who has been accused of the murder of a lumberjack who was shot and burned to death. Maureen Williamson, also in the jail cell and an attractive member of the Green Rage group almost convinces Kincaid to take the case, but Kincaid is reluctant because of the illegal nature of some of the group's activities, which includes blowing up logging equipment. However, he ultimately changes his mind when some loggers attack him and the two activists outside the police station. Kincaid soon finds he is in for more than he bargained for in a town that is extremely pro-logging and boasts a judge that prefers to see things the prosecution's way. The prosecutor, a vixen named Rebecca Adams, is in tight with the Judge and has her mind set on slamming the door on Kincaid's client no matter what it takes.
In this latest entry from William Bernhardt, the characters are appealing and the mystery stays well-hidden until the end. The skirmishes between loggers and the eco-terrorists are intriguing -- and somewhat alarming -- as are the insights into how the logging industry manages to thwart the government and cut down trees anyway despite fines and penalties. Another excellent legal thriller from Bernhardt. Highly recommended.
---
Mystery Reviews
Page One | Page Two | Page Three | Page Four | Page Five

Click Here to Return to the Book Reviews Index




---
More from Writers Write
---