A Conversation With Christine Feehan
by Claire E. White
New York Times
bestselling romance novelist
Christine Feehan
has been writing all of her life. As soon as she could pick up a pen and put together sentences, she began to create stories for her own amusement. As she grew up, she continued to write -- she recalls that she was always getting in trouble at school for writing stories when she was
supposed
to be listening to a lecture on word problems. (She recounts as one of her most embarrassing moments the time she got caught writing her first real love scene in math class and the teacher confiscated her notebook. His face reflected pure horror as he read the torrid scene, and she wasn't sure which of them was more mortified.)
For over twenty years, Christine taught martial arts and self defense classes. She holds a third degree black belt in a Korean style and ranks in several other systems. But she continued to write her stories. And with eleven children, it wasn't easy to find the time. So she worked on her novel at her children's ballgames and wrestling matches, at gymnastics and dance. She says she can write anytime of the day or night. (But she does insist on being alone when she writes those steamy love scenes.) She had always had a group of friends and readers, and when they read her first vampire romance novel, they began to hound her to find an agent and submit the manuscript. Her first book,
Dark Prince
, was accepted by Dorchester Publishing under the Love Spell imprint. It was a vampire romance, but it had a unique twist: its hero was a powerful and ancient Carpathian in search of his lifemate. The Carpathians are an ancient group of people whose duty it is to destroy the vampires that prey on humans.
Dark Prince
was a huge success, both critically and commercially, and has led to the publication of many more books in the series:
Dark Desire
,
Dark Gold
,
Dark Magic
,
Dark Challenge
,
Dark Fire
,
Dark Legend
and
Dark Guardian
, which will be released in May, 2002.
A versatile writer, Christine also writes Gothic Romance, as seen
The Scarletti Inheritance
(Love Spell) and
A Very Gothic Christmas
(Pocket Books). She is also working on several contemporary romances, as well. Her books are known for their vivid characterizations, steamy passion and interesting background locations. They regularly appear on the
New York Times
,
USA Today
, Barnes and Noble and Waldenbooks bestseller lists. They have also won numerous awards:
After Twilight
was given the PEARL Award for "best anthology" (it beat out
A Very Gothic Christmas
for the honor).
Dark Dream
, her novella in the anthology
After Twilight
was given the PEARL Award for Best Novella/Short Story.
Dark Fire
was given the PEARL Award for Best Overall Paranormal Romance for 2001.
Dark Prince
was the winner of three out of the nine 1999 PEARL awards. The Carpathian romances are certainly popular: in the Meg Ryan feature film,
Kate and Leopold
, if you look closely, you can spot Meg's assistant reading a Christine Feehan novel.
When she's not writing or spending time with her family, you might find Christine spending time outdoors or curled up with a good book. She spoke with us about her popular Carpathian romance series and her love for the craft of writing. She also talks about the one thing aspiring romance writers must remember if they want to be a success.
I understand you come from a very large family, with ten sisters and three brothers. What are some of your fondest memories of growing up with that many siblings?
All the fun we had during holidays. We had a huge two story house and during Halloween we would turn the entire upstairs into a haunted house and play parts while the younger kids and their friends went through our "haunted house" and we scared them!
Christmas was unbelievable, packages everywhere and shared secrets. We were always together and very close. I think the fun of a large family is you're always your own crowd and your own support group. It is the same now as it was then. When we get together and our children get together it is an amazing feeling.
How did you first get interested in martial arts? Which martial art do you practice?
I hold a third degree dan black in Tang So Do Mu Duk Kwan, a Korean System.
How has martial arts influenced your life?
Martial arts has definitely influenced my life. It became a way of life for me for many years, physically and spiritually and emotionally. The practice centers you and balances your life. It also gives you tremendous confidence in yourself and your ability to handle any situation. It requires tremendous discipline so you are always aware you have the power and the determination to achieve what you want to achieve. It always gives you tremendous patience and the wisdom to know when to walk away.
What was your inspiration for the Carpathians? The concept is a very interesting twist on the traditional vampire stories.
I was in a very dark place in my life. We had suffered a terrible loss in our family and I found it had robbed me of my ability to write, which was like breathing to me. I created the Carpathian world out of that darkness. I wanted them to go on no matter how bleak their existence, to hold on until the light came for them. I loved vampire stories and myths and asked myself why would someone choose to give up his soul. A life without love was the only answer I could come up with that made sense as nothing else is that important.
What led up to the publication of your first Carpathian novel, Dark Prince?
I would often entertain my friends with my stories and when I wrote
Dark Prince
, they began to call me in the middle of the night eager for more…. Lots more. A friend of mine insisted I send the manuscript to an agent and I did. She asked Alicia to read it and Alicia liked it and made an offer.
Each book in the Carpathian series has a vivid, and different setting, from the Carpathian mountains to the steamy nights of New Orleans. How important is a sense of place to you in your writing?
"I like dark and forbidden and creepy. I like surprises and fantasy. I love paranormal and magic. Gothic is a great area to explore these elements."
It matters a great deal to me, although I sometimes get so caught up in the story evolving that nothing else matters to me. But the settings are places that I can easily envision vampires and Carpathians inhabiting! I went to New Orleans and knew immediately that I had to set a story there, and most of what my characters did and experienced, I did first! Mountains are a particular love of mine and volcanoes, so of course they are going to be a large part of my books.
Your Carpathian series is also known for its very steamy love scenes. How do you approach writing love scenes? Does your husband ever read them? Is there anything you try to avoid when you write them?
Those kind of questions do make me laugh. The only thing I do differently when I write love scenes is to be totally alone. (That is very rare in my house.) I can write with the entire household around me most of the time. My husband reads all my books and had better love them and if he doesn't, he'd better lie like crazy with a smile on his face. The only thing I avoid while writing a love scene is my children. Children and writing love scenes don't mix, they get you out of the mood very,
very
fast!!!!
The Carpathian males are truly unique heroes. They are definitely alpha males, but their dedication to monogamy and to protecting their women has definitely struck a chord with readers. Did you have anyone in mind when you created your first Carpathian, in Dark Prince? Does this type of hero present any particular writing challenges?
I didn't base my hero on anyone in particular, I just gave them traits that I admire. I can't have person in my head or it interferes with the character. I don't ever want to use family members as characters. In one story I used a name that fit the character and later my pregnant daughter named her child the same name she saw on the character list. That would have been okay, but I planned a story around the adult female later and obviously in order to write it I'm going to have to change her name while I'm writing and envision someone completely different and then change it back, as I can't change her name now. See how your children can complicate things even when they're grown??? (laughs)
How do you approach the research necessary for your books?
Well, I'm a reader, I always have been so I
read everything, including labels. I have been known to read encyclopedias. My one fear in writing was that I would get so mired down in details I would lose the story. I think to compensate I've swung very far the other way. For instance in
A Very Gothic Christmas
, I researched music, talked to successful band members, read magazines and did the same with burn victims and people with bipolar disorder. I talked to so many people and read so many journals, and I desperately wanted to put all these facts in the book. One journal I read made me cry for days. You can't exactly do that in a romance novel, though.
Different romance authors have different ideas about what makes a really interesting heroine. What makes an interesting heroine to you? What are your pet peeves about heroines in romance novels?
I love all kinds of heroines. I often follow discussions on heroines and I'm always intrigued by them. I think personalities are made up from our backgrounds and so our reactions in a given situation are from our past experiences. For instance, when there is a noise in a house and everyone falls apart and calls the heroine too stupid to live because she goes down into the basement to check it out, I laugh, because I
always
check out the noises. I'm the one who gets up in the middle of the night and walks around the house to insure all is well. It wouldn't occur to me not to do it. My husband worked away from home and I was the protector. I have total confidence in my abilities to handle most situations. I want to go wherever the author is taking me. I want the entire ride. If the author has done her job, there will be reasons for the heroine reacting as she will. I can't say there's much I would object to unless she was unfaithful. My daughter was involved in film class for college and they all went to a show, which they enjoyed very much and all of them were enthusiastic about it. When they returned to the classroom the instructor had them critique the film. They ended up picking it to pieces and saying it wasn't well done, completely forgetting their enjoyment. He told them that was the danger, you either read/watch for enjoyment with no preconceived notions or you read/watch with a deliberately critical eye and you find what you're looking for. I
always
want the adventure and enjoyment, so I approach every read and every heroine with an open mind. In my humble opinion if everyone wrote books about a perfect heroine who always did the right thing, books would be boring. I prefer to watch her be real, a person who moves through the book motivated by her experiences and personality.
I'd like to talk a bit about the actual process of writing. When you start a new book, how much of the plot do you already know before you start writing? Do you use outlines or character lists to keep all the genealogy straight?
I think I know the plot, but the characters in my books are always very strong and they take the plot in a different direction. Its always a bad idea to go against your characters, so my writing is always the greatest of adventures. I do have character lists, there is no way I can do without them anymore!
Would you describe a typical working day for you?
I check mail around nine o'clock and work with that for approximately an hour. Then I begin writing. I work most of the day in my office at home, taking short breaks to walk around. At four, I take a break to be with my youngest daughter and discuss her day with her. I do jump on and off the Net, as I receive close to 1000 emails a day including list mail. I try to keep it under some control. In the evenings I write while my family watches tv, but I'm in the living room with them. The biggest thing I try to avoid is the phone. I hate being in the middle of a scene and getting interrupted.
Let's talk about the editing process. Do you edit as you go, or do you come back to a previous day's work to edit? Do you get feedback from anyone else on your work (such as your editor at Love Spell)? Have you ever had to make major changes to a manuscript?
I edit as I go, I start with the previous day's work, go over it for the hundredth time and yes, I have a line editor who is a friend who goes over my work. My agent goes over my work and my editor goes over it, but I'm fortunate in that suggestions are made -- for the most part. My first book had to be cut by 100 pages and that was a
huge
job. I'd never done it before and frankly I'd do it much differently now.
Have you ever experienced writer's block? If so, how did you manage to overcome it?
Yes, once in my life, and I created the world of the Carpathians and managed to work my way out of it.
"Don't listen to people telling you you're crazy because you need to write or that you won't be good enough or that it's a pipe dream. I would say 99% of all writers have heard that. You're a writer, born a writer, hone your craft, work at it and follow your dream!"
In addition to your full-length novels, you have also penned shorter novellas for After Twilight and A Very Gothic Christmas. What are the special challenges involved in writing the shorter length story?
I'm basically very wordy and have a tendency to have a difficult time writing a short story. I admire others who are able to whip them out there and have them be wonderful. They are extremely difficult for me and I spend far more time on them than one would ever imagine.
How many children do you have, and how old are they? You are so prolific, publishing three books a year. How do you manage to juggle such an active family life with your writing?
We have eleven children all together, a yours, mine, and ours family. We definitely believe in adoption too, but I wouldn't be able to tell you which is which. (laughs) At this time, we only have two daughters remaining at home. One is eighteen and one is eleven. I have no trouble juggling, because at one time I had five teenagers and still wrote continually; I just wrote my stories at baseball games and gymnastics and dance and baseball and….
I'd like to talk about the latest book in the series, Dark Legend. In Dark Legend, we finally get to hear Gabriel's story. Gabriel is the protector of the race, and is psychically bonded to his twin, Lucien. Gabriel and Francesca are both such strong characters on their own. Did this present any special challenges in writing their story?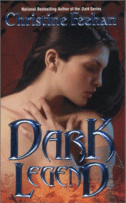 It is always difficult to write a book when you have a number of extremely strong characters. The tendency is one might take over and overshadow the other. Some have quiet strength and others are right in your face with it. Gabriel had a quiet strength to him. He loved his brother and had vowed to honor his promise to him. It didn't matter what the cost was to himself, he was prepared to carry out his vow. His love for his brother was unconditional, but in the face of Lucian's extreme sacrifice it was a balancing act showing readers Gabriel's loyalty and brotherly love. Fortunately for me, my readers are caring and loving people and they admired Gabriel very much.
In addition to the Carpathian series, you also write Gothic romances, such as The Scarletti Curse. What attracts you to the gothic romance genre?
I like dark and forbidden and creepy. I like surprises and fantasy. I love paranormal and magic. Gothic is a great area to explore these elements.
Aside from the Carpathian series and the Gothics, are there any other genres in which you enjoy writing?
I write contemporary suspense with paranormal elements in it and also straight contemporary action books. I love them and write them in between the dark books and shapeshifters and gothics. That way I can't possibly burn out on any one thing. At this time I haven't attempted to market them, mostly because I don't have the time to polish them with my writing schedule as it is. But I'm working on one new idea…
What projects are you working on now? Would you give us a sneak peek of your next books?
I have a line up of the Dark series books and gothics over the next year, but I'm also working on a psychic contemporary that I'm very excited about. I've researched this book for well over two years; in the last six months every spare moment has been devoted to this book. I'm working on it now and hope it comes together, as the characters are extremely strong.
You have successful marriage and family: what is the secret to a lasting marriage, in your opinion?
Richard is my best friend and I really respect him. We have a partnership and we work well together, both wanting the same goals for our family. I think friendship and respect are so important. I care what he's feeling and trust him to care about my feelings. And we're committed to our marriage. There are times when any couple has problems, but commitment gets you through and the reward is a stronger and stronger relationship.
What is the greatest challenge you have faced in your writing career?
Myself. I had a difficult first year because I knew nothing about the publishing end of the business. I had to fall back on my love of reading and I researched, asked questions and kept probing until I felt more confident in knowing what I was doing.
What is your advice to aspiring romance writers?
Just write. Don't listen to people telling you you're crazy because you need to write or that you won't be good enough or that it's a pipe dream. I would say 99% of all writers have heard that. You're a writer, born a writer; hone your craft, work at it and follow your dream!
Thank you for allowing me the opportunity to share with your readers!
---
More from Writers Write