Romance Book Reviews
Page One of Two
Dark Desire by Christine Feehan
Love Spell, 1999.
Paperback, 320 pages.
ISBN: 050552354X.
Ordering information:
Amazon.com.
Dr. Shea O'Halloran is a brilliant surgeon who has overcome the neglect of her heartbroken and suicidal mother after Shea's father died. Shea has a rare blood disorder -- she requires frequent blood transfusions -- but she hasn't let that stop her in her devotion to her work. But for years she has seen a dark and tortured man in her dreams who seems to be calling to her. When two murderous men show up to kill her, claiming she is a vampire, Shea goes on the run, eventually ending up in the ancient Carpathian mountains. There she rescues Jacques, an immortal Carpathian who claims that she is his life mate. Carpathians drink blood like vampires, but are not evil -- they hunt vampires themselves and protect humans from them. Shea is not ready to admit that she herself is half-Carpathian, but Jacques exerts an almost magical pull on her heart. Can she find love with an immortal before the vampire hunters kill them both?
Dark Desire
is the second novel in Christine Feehan's outstanding Carpathian romance series. The Carpathian males are larger than life, and will do anything to protect their life mates and their dying species. Shea is a skilled doctor who is used to getting her own way, and her exchanges with the imperious Jacques are quite funny. The passion between the two leads is scorching, and is sure to have lovers of vampire romances swooning with desire. The other Carpathian males which make an appearance in the story -- Mikhail, Gregori and Byron are equally as mesmerizing as the powerful Jacques. Their stories should be equally intriguing.
---
Indiscretion by Jillian Hunter
Sonnet Books, April 2000.
Paperback, 352 pages.
ISBN: 0671026836.
Ordering information:
Amazon.com.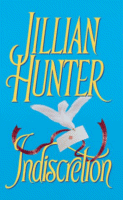 Seven years ago, the young Highland noblewoman Anne Kerr was seduced by Patrick Sutherland, who then left her to go into the military. Anne was quickly married off to Patrick's cousin. Now a widow, Anne has never forgiven Patrick (now the fifth Viscount Glengramach) for breaking her heart. Despising the very sight of Patrick, Anne is horrified when Queen Victoria herself orders Anne, Patrick and eccentric Aunt Nellwyn to investigate the mysterious and scandalous death of Anne's Uncle Edgar. Under the guise of giving the annual hunting weekend and festivities, Anne reopens the family hunting lodge with the hope of finding out the truth. Patrick, who has always been in love with Anne but didn't tell her in time, is determined to win her back. He'll do anything, including masquerading as her butler, just to be near her. And Anne delights in torturing him. When a gypsy fortune teller's predictions start coming true, it seems that Uncle Edgar's killer is close at hand. Can the couple find the killer and find happiness in each other's arms?
Jillian Hunter knows how to write romances which are both extremely funny and sensual at the same time. Anne and Patrick make a very entertaining couple, and the naughty Aunt Nellwyn is there at every turn to persuade the warring couple to admit their growing attraction for one another. The Viscount turned Butler for a day storyline is hilarious; Patrick the hardened soldier of many battles stoically endures housemaid's knee and other indignities. The mystery is secondary in this well-written romance -- Jillian Hunter does a great job of knitting the two storylines together. With some intrigue, a touch of magic and wonderful characters, this is a lovely romance you'll definitely not want to miss.
---
Romance Reviews
Page One |
Page Two
Return to Book Reviews Index
---
More from Writers Write