Romance Book Reviews
Page One of Two
Dark Fire by Christine Feehan
Love Spell, August, 2001
Paperback, 390 pages
ISBN: 0505524473
Subgenre: Paranormal
Ordering information:
Amazon.com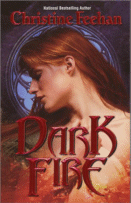 Tempest had always known that she was different from other people. Her special ability to talk telepathically to animals has always set her apart, so she keeps her abilities secret. Skilled with cars, she answers a job ad for a mechanic to travel with a musical group headed by a popular singer. When Tempest goes for the interview, she meets Darius, the handsome and strangely compelling leader of the group. Darius and the rest of the troop are Carpathians, the immortal vampire hunters. Unattached, Darius immediately recognizes the beautiful Tempest as his life mate. But Tempest is frightened of the Darius' intensity, although she finds him irresistible. Darius knows that they are meant to be together, but Tempest isn't ready to give up her normal life to become the life mate of a Carpathian. Meanwhile, there is a group of human vampire hunters who are determined to murder everyone of the group, including Darius and Tempest.
Dark Fire
tells the long-awaited story of Darius, one of the oldest and darkest Carpathians. Darius had to grow up on his own, and he is even more arrogant than most Carpathian males. Tempest is more than a match for him, and their scenes together are both funny and very sexy. If you haven't yet discovered Christine Feehan and her dark, sexy romances, by all means go track them down immediately.
---
Dear Cupid by Julie Ortolon
St. Martin's Press, July, 2001
Paperback, 320 pages
ISBN: 0060198753
Subgenre: Contemporary
Ordering information:
Amazon.com
Kate Bradshaw has a popular online advice column called "Dear Cupid". But after a terrible divorce, Kate's antipathy towards men is starting to make her advice column sound pretty cynical, much to her boss' irritation. Her boss finally issues an ultimatum: get a love life and get happy or the column is going to be history. On a business trip to L. A., Kate gets up her courage and flirts outrageously with Mike Cameron, a successful special effects animator who works in films. Kate thinks she'll never see Mike again, but Mike is totally captivated by Kate and tracks her down after the plane lands. They both live in Austin, Texas, as it turns out. Kate is embarrassed about her bold behavior in the airport, but reluctantly agrees to a consulting job for Mike. Her job is to find him a wife, but what she doesn't know is that Mike has already decided that Kate will make a perfect Mrs. Mike Cameron.
Dear Cupid
is just the kind of light, funny and heartwarming romance that would be perfect to curl up with for hours of entertaining reading. Julie Ortolon has a good ear for dialogue, and Date and Mike's encounters are very funny -- even while the sparks are flying. Kate's son Dylan suffers from asthma, and his condition rings true to life, adding depth to the story. In fact, Mike's plans to win over Dylan provide for some very touching scenes. If you're ever feeling low, Julie Ortolon's books are sure to put a smile on your face.
---
Romance Reviews
Page One |
Page Two
Return to Book Reviews Index
---
More from Writers Write
---