Romance Book Reviews
Page Two of Two
Dark Legend by Christine Feehan
Leisure Books, January, 2002
Paperback, 394 pages
ISBN: 084394952X
Subgenre: Paranormal
Ordering information:
Amazon.com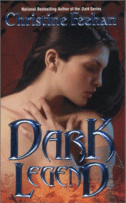 The ancient Carpathian Gabriel has long been a guardian of both humans and Carpathians alike. But he is in danger of turning vampire, if he does not find his lifemate soon. His twin brother Lucien has already turned, and Gabriel knows he must honor the pact he made with his brother years ago, that one would destroy the other if he became a vampire. While walking along a Paris street, Gabriel is near exhaustion when he hears the melodious voice of his lifemate, Francesca, who he has long thought dead. Francesca is a Carpathian who has hidden from her people and from the vampires for all of her life. A healer, she blends in with the humans -- until she meets Gabriel. Can she give up her life to become Gabriel's soulmate, and save him from certain death?
Christine Feehan's Carpathian romance series feature a unique twist on the traditional vampire tales. Carpathians are alive, but they hunt vampires, and need to drink blood to survive. Protectors of the human race, they have a number of strange powers. In
Dark Legend
, we meet a powerful Carpathian female, who has managed to make her way with the humans among whom she lives. Francesca and Gabriel make a wonderful couple -- and the sparks really fly when they are together. Christine Feehan has done it again with this fantastic new entry into the popular Carpathian series.
---
The MacGowan Betrothal by Lois Greiman
Avon, November, 2001
Paperback, 372 pages
ISBN: 0380815419
Subgenre: Historical
Ordering information:
Amazon.com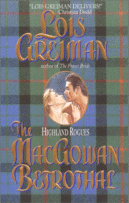 In 1535 Scotland, Gilmour MacGowan is determined to marry the lovely Isobel Fraser, the twin sister of his brother's wife. Although all the women in the castle desire Gilmour, Isobel wants no part of the handsome MacGowan -- much to Gilmour's intense irritation. But Isobel was raised outside the keep because her mother though twins were evil, and sent the tiny Isobel away from her home. Now Isobel is determined never to marry, and to protect her clan from a great danger, of which she fears the handsome Gilmour may be a part. Nevertheless, Gilmour knows that they are meant to be together, and sets out to prove to Isobel that he is the man that she will wed.
The MacGowan Betrothal
is the second installment in Lois Greiman's Highland Scoundrels series. The series focuses on an intriguing prophecy about the Fraser brides and the kind of man it takes to win the hand of a Fraser woman. Gilmour MacGowan must overcome quite a few obstacles to convince his lady love of his sincerity, and the feisty Isobel is not easy to convince, although she does secretly find the brawny Scotsman attractive.
The MacGowan Betrothal
is classic Lois Greiman: the background is intriguing, the characters are compelling, and the trip to the Scottish Highlands is a true joy.
---
My Spy by Christina Skye
Dell, January, 2002
Paperback, 384 pages
ISBN: 0440235782
Subgenre: Contemporary
Ordering information:
Amazon.com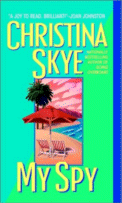 Since the death of her parents, Annie O'Toole has spent all of her time working at the luxury resort spa that she owns with her sister, Taylor. A true workaholic, Annie has had no time for romance -- except for a week-long interlude with Sam McKade, a handsome man who said he was on his way to Mexico on vacation. But while watching television, Annie and the rest of the country watch Sam save a busload of children from certain death. Sam, it turns out, is a Navy SEAL who was undercover when he met Annie. Now he's injured and suffering from amnesia, and needs a place to recuperate. The Navy decides that Annie's exclusive and private resort is just the place for Sam to recover his memory -- which has details of a threat to national security. Sam doesn't remember Annie at all, and it's torture for Annie to be around the man she loves who sees her as a stranger. Sam finds his new physical therapist attractive, and somehow familiar. He knows that he must remember something important and report that information to his superiors. But someone is willing to kill to keep Sam from remembering what happened before the accident.
Annie O'Toole is just the kind of heroine that readers will cozy up to -- she's hardworking, funny and she's not shy about standing up for herself. Sam McKade is a dreamy hero -- he's competent, handsome, and he's even got a great sense of humor. Christina Skye writes with honesty and passion, and her sense of humor will keep you smiling long after you've put the book down. Highly Recommended.
---
Romance Reviews
Page One
|
Page Two
Return to Book Reviews Index
---
More from Writers Write