Romance Book Reviews
Page One of Two
The Dangerous Gentleman by Julia London
Dell, April, 2000.
Paperback, 384 pages.
ISBN: 0440235618.
Ordering information:
Amazon.com.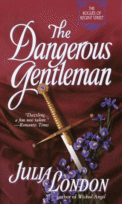 Author Julia London begins a new trilogy called the Rogues of Regent Street. The rogues are three friends who suffered a terrible tragedy when the fourth member of their group is killed in a duel. Before the incident, the rogues were the talk of the ton, as each scandalous exploit surpassed the next. Adrian Spence, the Earl of Albright, is the most affected by the death and blames himself for the death of his cousin, Lord Phillip Rothembow. Bitter from his father's disinheriting him in favor of his younger brother, Adrian swoops down and arranges a marriage with the young and innocent Lilliana Dashell solely to spite his brother who is madly in love with Lilliana. To his great surprise, Adrian finds a sizzling attraction to his new bride, but he refuses to let any real emotion into their marriage. Determined to break the shell of the tortured Adrian, Lilliana sets out to reach the loving heart that she is sure lies beneath a tough exterior. But can Lilliana get through to Adrian before it's too late for their marriage?
Julia London's new Rogues of Regent Street trilogy gets a wonderful launch with
The Dangerous Gentleman
. Adrian is a tortured soul who has a lot of learning to do -- and Lilliana, the country girl who dreams of exotic travel and an exciting life, is just the woman to teach him. London knows how to pull your heartstrings and the emotion and passion of Adrian and Lilliana as they try to come to terms with Adrian's past and Lilliana's dreams for the future is powerful. With fiery love scenes and vivid characterizations, this love story is a sure winner.
---
Dark Gold by Christine Feehan
Love Spell, April, 2000.
Paperback, 312 pages.
ISBN: 0505523752.
Ordering information:
Amazon.com.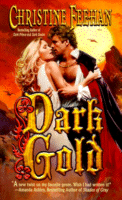 Graphic designer Alexandria Horton and her orphaned little brother are just barely surviving in San Francisco. During an important job interview at a restaurant, Alexandria senses something evil outside. Worried for her brother who is being babysat by a friend, she rushes outside the restaurant to find an evil vampire who has murdered three women and who intends to take Alexandria's brother as his next victim. They are rescued by a handsome and powerful stranger, who also seems to have vampire-like powers. The stranger, Aidan Savage, is actually a Carpathian -- a member of a powerful race who will turn into an evil vampire if he doesn't find his lifemate in time. He's also extremely wealthy and has a fabulous home. Adain declares that Alexandria is his lifemate and that they are bound together for eternity. But Alexandria isn't giving up her humanity without a fight, even though Aidan is the sexiest man she's ever met in her life.
Dark Gold
is another excellent entry in Christine Feehan's Carpathian series. Aidan Savage is an exotic and dangerously attractive hero, who nevertheless allows Alexandria her space as she comes to terms with what she has become. There is a wonderful humor in Freehan's writing, which meshes perfectly with the sensuality of the story. Those who enjoy a good vampire story will be in heaven with
Dark Gold
.
---
Romance Reviews
Page One |
Page Two
Return to Book Reviews Index
---
More from Writers Write