Romance Book Reviews
Dark Guardian by Christine Feehan
Leisure Books, May, 2002
Paperback, 384 pages
ISBN: 0843949945
Subgenre: Paranormal
Ordering information:
Amazon.com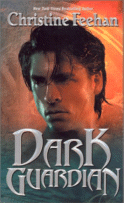 In this eighth entry in Christine Feehan's bestselling Carpathian series, readers finally get to learn the story of Lucian, the ancient and powerful guardian of his people. Lucian has found his lifemate after a lifetime of waiting; she is Jaxon Montgomery, a tough police officer with a deadly secret. Her stepfather, Navy SEAL Tyler Drake, murdered her mother and brother years ago and disappeared. Now when Jaxon gets too close to anyone, Drake makes sure that they die -- horribly. Jaxon meets the mysterious Lucian when he rescues her in a police raid gone bad. Although their attraction is mutual, Jaxon doesn't want another person to die because of her. Jaxon doesn't realize the power that Lucian wields; the more she falls in love with him, the more she realizes that her life has been changed forever.
In
Dark Legend
, Lucian was willing to give up his own life to save his twin brother, Gabriel. Close to turning into the undead that he hunted, Lucian finds his lifemate just in time, although they will have to face many enemies before they can truly be together. Christine Feehan has created a compelling heroine with Jaxx; she has had to overcome terrible tragedy to become who she is today. Jaxx is the perfect foil for the powerful Lucian, and their scenes together sizzle and pop. This is another powerful, paranormal romance that is sure to please both fans and new readers alike.
---
The Secret Lover by Julia London
Dell, May, 2002
Paperback, 387 pages
ISBN: 0440236940
Subgenre: Historical
Ordering information:
Amazon.com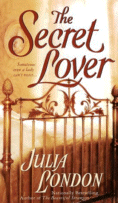 Sophie Dane is a fallen woman in the eyes of the ton. She escaped a horribly abusive marriage by divorcing her husband, and becoming a companion to an eccentric Frenchwoman, Honorine Fortier. Eight years later, Sophie returns to England with Honorine. She hopes to keep a low profile, but her family has other ideas. She finds herself attracted to Caleb, the illegitimate half-brother of Trevor Hamilton, the respectable nobleman who is courting her. Once again, Sophie's love life is the scandal of the ton. And Sophie must make a terrible choice between true love and respectability.
Readers who enjoyed
The Ruthless Charmer
will especially enjoy the story of Sophie, the younger sister of Julian Dane, the hero of that story. Sophie is a complex and likeable heroine, who must choose between her own wants and what her family and society expect from her. As a former victim of abuse, she must look inside herself to find the strength to make the right choices. Written with passion, sensitivity and just the right touch of humor,
The Secret Lover
is sure to cement Julia London's reputation as one of romance's rising stars.
---
Running Scared by Elizabeth Lowell
William Morrow, April, 2002
Hardcover, 400 pages
ISBN: 0060198761
Subgenre: Contemporary
Ordering information:
Amazon.com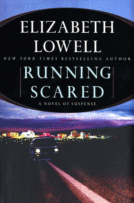 Shane Tannahill broke his ties with his wealthy, but cruel, father to make a fortune on his own terms. Now the owner of the biggest and most profitable casino in Las Vegas, he is the envy of the other casino owners, who feel that Shane should share the wealth. Risa Sheridan is the antiques expert and curator for the fabulous gold collection which is featured at the casino, and which is Shane's pride and joy. When Shane is offered the chance to buy some outstanding antique Celtic gold, Risa senses that something very wrong is at work. This gold has a history, and it's filled with darkness and death. As they seek to discover the origins of the mysterious gold, people begin dying all around them. And someone is trying to destroy the empire that Shane has built over the years. Yet, together Risa and Shane find a strength together that they would not have alone.
In this second in the
Rarities Unlimited
series, Elizabeth Lowell combines priceless Celtic gold, greed, passion and adventure for a thrilling romantic adventure. Risa Sheridan, the girl with a terrible childhood who worked her way up to the top of her field, is a likeable heroine, and her interactions with Shane, the sexy casino owner, are fiery. Readers who are familiar with the Donovan series will also enjoy seeing tough as nails FBI agent April Joy in action again -- could it be long before she gets her own story told? With sizzling passion and nonstop thrills, this is another winner from Elizabeth Lowell.
---
Return to Book Reviews Index
---
More from Writers Write