Romance Book Reviews
Page One of Two
Daughter of Destiny by Tracy Fobes
Sonnet Books, September 2000.
Paperback, 400 pages.
ISBN: 0671041746.
Ordering information:
Amazon.com.
In 1826 London, Georgiana, Lady Darleigh is trapped in a loveless marriage. Georgiana loved Brock when she married him, but later found out he just married her for her money. Now they have a marriage of convenience, and Georgie paints the town red with her own friends. But Brock realizes that he's made a terrible mistake; he really does love Georgiana. He is determined to win her back, but there is a problem. Unbeknownst to her, Georgiana is a powerful Druid and is one of the three living Guardians of Becoming: beings with the power to create illusions that seem real. One of the other Guardians is quite evil, and is determined to find Georgiana and destroy her; the other one is merely a boy. As Georgiana struggles with her newfound powers and her attraction to Brock, she is in increasing danger as the powerful Guardian closes in on her identity and her location. With the help of her Druid Aunt and Uncle and the husband she is not sure she trusts, Georgiana must come into her own as a Druid -- and as a woman in love with her own husband.
Tracy Fobes is one of the most refreshing voices in the romance world today, and her latest novel shows her skill at writing compelling paranormal romances.
Daughter of Destiny
is an intriguing mix of passion, magic and romance. Georgiana is a strong and passionate heroine, the Druidic lore is fascinating, and the story is charged with suspense and erotic tension between Georgiana and Brock, making for a gripping read. Highly recommended.
---
Dark Magic by Christine Feehan
Love Spell, July 2000.
Paperback, 358 pages.
ISBN: 0505523892.
Ordering information:
Amazon.com.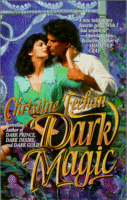 Fans of Christine Feehan's Carpathian paranormal romance series will be thrilled to finally see the story of Gregori, the most powerful of all the Carpathian males. Carpathians who do not find their true lifemate run the risk of turning into vampires (vampires feed on the human populace and are totally evil). The Carpathians protect humans from the vampires' depredations, and enjoy magical powers. Human Savannah Dubrinsky is a world-famous magician who is adept at creating the most astounding stage illusions. When the handsome and mysterious Gregori whispers in her mind that he is her lifemate, Savannah resists. She is an independent woman, and although she is half Carpathian herself, she has never liked the arrogance of Carpathian males. But Gregori is a powerful hunter, and he will not be denied; he knows Savannah is his true lifemate and he will not let her go.
Christine Feehan's fascinating Carpathian series will appeal to anyone who likes a bit of the paranormal with their romance, and anyone who loves a good vampire tale. Gregori, with his silver eyes and mesmerizing voice, is one of the most compelling of the powerful Carpathians, but the strong-willed Savannah is more than a match for him. Gregori and Savannah's story is filled with magic, passion, suspense, and just the right touch of humor. If you haven't read the other books in the Carpathian series, by all means start now.
---
Romance Reviews
Page One |
Page Two
Return to Book Reviews Index
---
More from Writers Write
---