Nonfiction Book Reviews
Page One of Four
The Coming Global Superstorm by Art Bell and Whitley Strieber
Pocket Books, January 2000.
Hardcover, 474 pages.
ISBN: 0671041908.
Ordering information:
Amazon.com.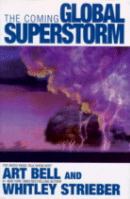 According to this new book, a monstrous storm of extremely damaging winds, nonstop snow and ice is on its way and could mean the end of our civilization. Depending on when the storm arrives, whether it is Winter or Summer, will determine whether we enter another Ice Age. The main brunt of the reason for the storm is that the North Atlantic Current, which helps maintain our current climate, will shift -- allowing for Arctic air to plunge southward. Bell and Strieber claim that Global Warming has moved forward this natural phenomena of superstorms by several thousand years because of humans' poor stewardship of the planet (use of fossil fuels, toxic waste etc.) "Nineteen ninety-nine was the most violent year in the modern history of weather. So was 1998. So was 1997. And 1996." This period of violent weather is a warning, say the authors. Bell and Strieber point to woolly mammoths frozen while chewing vegetation and frozen orange trees found in northern Siberia as proof of prior superstorms which occur suddenly, without any warning. Many other interesting theories abound in the book, including the possibility of a technologically advanced civilization that lived about 10,000 years ago, but was wiped out by the last superstorm.
Art Bell is a well-known radio talk show host. His show covers conspiracy theories, UFOs, unexplained phenomena, global warming and other unusual topics. Whitley Strieber is best known as being the author of the bestselling book,
Communion: A True Story
, an account of alien abduction. Bell and Strieber lay the groundwork for their theory of the coming superstorm in the main text, but there is also a running fictional account of what happens when the storm arrives. The fictional story is both exciting and frightening; it could have easily made a gripping sf novel on its own merit.
The Coming Global Superstorm
is an amazing and frightening book whose message of weather-generated doom will hit home for those who follow our increasingly bad weather. Even skeptics may find some of the scientific evidence hard to refute. Fans of Art Bell's show, weather buffs and geologists should find plenty of things to pique their interest here.
---
CareerXRoads by Gerry Crispin and Mark Mehler
Jist Works, January 2000.
Paperback, 435 pages.
ISBN: 0965223922.
Ordering information:
Amazon.com.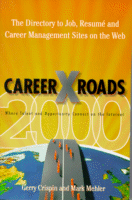 CareerXRoads
is a comprehensive reference book covering online recruiting for both job seekers and job posters (recruiters). The guide lists over 1,500 job-related websites, with reviews and detailed listings for 500 of the best job sites. Job site reviews contain contact information, website addresses, descriptions, the cost to view and post jobs, the cost to view and post resumes, special features and information about whether the job site focuses on a specific industry or region.
CareerXRoads
also contains a section with articles from career experts about recruiting, job searching, networking, writing job descriptions, email resumes, writing resumes for the Web and telecommuting.
CareerXRoads
is a very handy tool for both recruiters looking for the best places to advertise their employment needs and for job seekers looking for the sites with the most useful services and for targeted job sites that list employment opportunities specific to their field of work. Packed with resources and information about online career sites, job databases, job searching, and web-based recruiting,
CareerXRoads
is the best guide to Internet employment resources on the market today.
---
Nonfiction Reviews
Page One |
Page Two
|
Page Three
|
Page Four
Return to Book Reviews Index
---
More from Writers Write