Nonfiction Book Reviews
Page Three of Four
King of Hearts by G. Wayne Miller
Time Books, February 2000.
Hardcover, 292 pages.
ISBN: 0812930037.
Ordering information:
Amazon.com.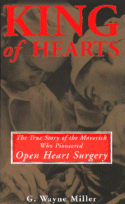 Today, open heart surgery and coronary bypass operations are performed nearly one million times a year. Generally, most insurance plans cover the cost, making the operation within the reach of most Americans. But until the 1950s, operating on a live, open human heart was considered impossible, and finding a skilled heart surgeon of any kind was rare. Award-winning journalist and author G. Wayne Miller tells the story of the father of open heart surgery, Dr. C. Walt Lillehei, and a band of early surgical pioneers whose groundbreaking research and experiments paved the way for the cardiac surgery of today. Using the life story of Dr. Lillehei as the focal point of the story, Miller portrays the incredibly dramatic true stories of both the doctors and the patients' struggles to find a way to keep a human heart alive, while opening it up and repairing any defects.
The book reads more like a perfectly written thriller than it does a nonfiction book -- one page into the story and you'll be absolutely riveted by the unfolding drama. Meticulously researched, the story conveys the complex medical techniques in an understandable form while not losing any of the scientific details. Miller also does an excellent job of highlighting the many ethical issues involved, from the anti-vivisectionist movement to the debate of the definition of death in the context of harvesting organs for a transplant. Lillehei himself was a fascinating man, full of contradictions: brilliant, risk-taking, charming, yet wildly disorganized in his accounting (he was convicted of tax fraud in 1973), he had as many enemies as he did admirers. But, ultimately, it is his and his colleagues' work which has saved the lives of so many people, and Miller's work does an excellent job of bringing this somewhat forgotten pioneer the recognition he deserves. Highly recommended.
--Claire E. White
---
Portrait of Great Britain
DK Publishing, October 1999.
Hardcover, 720 pages.
ISBN: 0789446081.
Ordering information:
Amazon.com.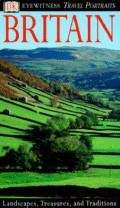 Portrait of Britain
is a comprehensive travel guide to Britain and includes full-page color photographs, maps, pictures and details of places to see and things to do. The book begins with a brief history of Great Britain, including a list of Kings and Queens with pictures, before exploring the local regions in detail. The coverage of local regions includes historical anecdotes, historical and natural landmarks, entertainment, maps, tourist sites with contact information and 3-D impressions of famous buildings. Some of the many regions of Great Britain covered in the book include London, Yorkshire, Southeast England, Thames Valley, Northumbria, Edinburgh, Glasgow, Scotland and Wales.
Portrait of Britain
is a remarkable travel guide with full-page color photographs, detailed maps, historical insights and extensive reviews of the best things to see at each site. With this weighty travel tome at your side you will be sure not to miss a thing on your travels through Great Britain and will probably know even more than the tour guides themselves.
---
Nonfiction Reviews
Page One
|
Page Two
|
Page Three
|
Page Four
Return to Book Reviews Index
---
More from Writers Write