Nonfiction Book Reviews
Page Four of Four
The Saga of Lewis & Clark by Thomas Schmidt and Jeremy Schmidt
DK Publishing, October 1999.
Hardcover, 210 pages.
ISBN: 0789446383.
Ordering information:
Amazon.com.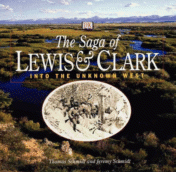 Lewis & Clark's journeys are brought to life again in this picturesque retelling. Meriwether Lewis and William Clark set out in 1804 as co-commanders of a journey commissioned by Thomas Jefferson to map unexplored land, westward from the Mississippi. Their incredible journey, full of discovery and adventures took them 863 days. Authors Thomas Schmidt and Jeremy Schmidt retraced the same route Lewis & Clark took as preparation for this book and photographer Wayne Mumford traveled the route in the same seasons as the explorers which results in beautiful photography, some of which must have been the same as Lewis & Clark saw it -- as some of the land is still relatively untouched by man today.
The authors' retelling of the story of Lewis & Clark is extremely well done and the result is an exciting narrative from start to finish. Actual quotes from the journals of Lewis & Clark included within the text and the beautiful photography add to the book's appeal and portray the wonder the explorers must have felt on their travels. A fascinating look into this extraordinary American adventure.
---
Wonders of the African World by Henry Louis Gates. Jr. with photographs by Lynn Davis
Knopf, September 1999.
Hardcover, 275 pages.
ISBN: 0375402357.
Ordering information:
Amazon.com.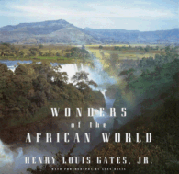 This compelling literary and photographic view of Africa and its culture is an absolute pleasure to read. Traveling by foot, by camel, by dhow and by land cruiser, reknowned scholar Henry Louis Gates, Jr. traveled Africa to report on the impact that ancient African cultures have had on today's civilization. The result is a fascinating book which contains beautiful photography of relics, buildings, art, temples and monuments and detailed text covering various parts of African history based on Gates's travels. Throughout his journey Gates writes about the uniqueness of each culture, its legacy and its impact on modern Africa and the rest of the world. Gates delves into the impact of the slave trade and turns his keen eye to the cultures of Nubia, Ethiopia, Timbuktu, the Swahili, South Africa and Zimbabwe. Also included in the book are colorful maps and a comprehensive author's notes section.
Gates is a W.E.B. Du Bois Professor of Humanities and Chair of the Department of Afro-American Studies at Harvard University. He was named one of the 25 most influential men of the year in 1997 by
Time magazine
. His talents in writing and history and his love for African culture are clearly visible in this wonderful historical guide. Professor Gates and photographer Lynn Davis have combined their skills to leave us with a stunning visual and written tour through Africa's history. Highly recommended.
---
Nonfiction Reviews
Page One
|
Page Two
|
Page Three
|
Page Four
Return to Book Reviews Index
---
More from Writers Write