Nonfiction Book Reviews
Page Two of Four
Julia and Jacques Cooking at Home by Julia Child and Jacques Pepin
Knopf, September 1999.
Hardcover, 430 pages.
ISBN: 0375404317.
Ordering information:
Amazon.com.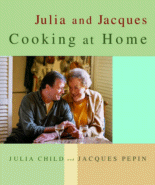 Legendary chefs Julia Child and Jacques Pepein provide recipes and cooking tips in this rare dual-chef treat. Julia and Jacques share their favorite recipes for different types of food, offer suggestions for cooking and occasionally politely disagree on the way to cook certain foods -- but it's all in good fun. Each recipe contains detailed instructions and ingredients and many recipes contain full-color photographs of the food. Photographs and step-by-step procedures are also included to highlight certain food and prepartion steps such as carving meat, making an omelet, preparing vegetables, cutting salmon and pastry bag techniques. Some of the recipes include: New England Chicken Chowder (Julia), Chicken Noodle Soup (Jacque), Classic Omelet (Julia and Jacque), Eggs Benedict (Julia), Scallop Souffle (Jacque), Ceaser Salad (Julia), French Potato Salad (Jacque), Seafood Bread (Jacque), Mashed Potatoes (Julia and Jacque), French Fried (Julia), Artichokes (Julia and Jacque), Sauteed Mushroom (Julia and Jacque), Tomotoes Provencal (Julia and Jacque), Salmon in Potato Case (Jacque), Poached Snapper (Julia and Jacque), Roast Chicken (Julia and Jacque), Chicken Pot Pie (Jacque), Hamburgers (Julia and Jacque), Steak au Poivre (Julia and Jacque), Top Blade Steak (Jacque), Pot Roast (Jacque), Sauteed Pork Chops (Julia) and Crepes (Julia and Jacque).
Cooking at Home
is a wonderful cookbook filled with tips from Julia and Jacques, fabulous recipes and a delightful atmosphere. A remarkable cookbook that is sure to inspire any amateur chef in the kitchen.
---
In a Vermont Kitchen by Amy Lyon & Lynne Andreen
HPBooks, September 1999.
Hardcover, 406 pages.
ISBN: 1557883165.
Ordering information:
Amazon.com.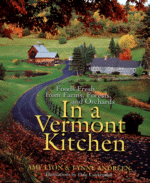 In a Vermont Kitchen
is a collection of original Vermont country-style recipes from authors Amy Lyon and Lynne Andreen. Lynne Andreen is the founder of Uncle Dave's, a Vermont specialty food business. Each chapter in the book highlights a specific food. Apples, berries, cheese, chicken, corn, cows, deer, game birds, honey, mushrooms, pumpkin, roots, squash, tomatoes and trout are some of the foods for which recipes are provided. Some of the recipes listed include: fresh apple butter, blueberry coffeecake, savory four-cheese cake, goat cheese smear, drunken apple chicken, corn and tomato chowder, roast beef hash, lamb kabobs, deviled eggs, ultimate french toast, game bird stroganoff, honey biscotti, maple pickled pears, wild mushroom bisque, pumpkin dumplings, roasted garlic, harvest stew, fried green tomatoes, smoked fish pie and smoked trout paté. In addition to cooking instructions and ingredients, recipe listings also include illustrations, anecdotes and historical facts and stories about the state of Vermont.
In a Vermont Kitchen
is a unique and fun cookbook that provides recipes using foods for which Vermont is well-known. If you are looking for some good, hearty recipes, then this is the book for you.
---
Nonfiction Reviews
Page One
|
Page Two
|
Page Three
|
Page Four
Return to Book Reviews Index
---
More from Writers Write