Mystery/Thriller Book Reviews
Page Five of Five
The Testament by John Grisham
Island Books, January 2000
Paperback, 533 pages.
ISBN: 0440234743.
Ordering information:
Amazon.com.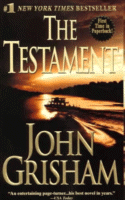 Troy Phelan is an elderly multi-billionaire who doesn't want his fortune to fall into the hands of his greedy, obnoxious children and ex-wives. He tricks his heirs into thinking he is about to sign a final will -- including having psychiatrists present at the signing to verify his sanity. Once the psychiatrists agree Troy Phelan is undeniably sane, he quickly pulls out a separate holographic will, signs it and then runs for a door to a terrace and leaps over the railing to his death. The new will blocks his ex-wives and children out of their inheritance except for one child, Rachel Lane, a missionary living in the Brazilian jungle. Rachel Lane is unknown and a huge surprise to the Phelan children. A mass of seedy lawyers appears to represent the aggrieved heirs in challenging the will. Meanwhile, John Stafford, Troy Phelan's long time attorney and executor of the will appoints his friend, Nate O'Riley, to locate Rachel Lane. Nate is currently in rehab for the third time and it is unlikely he will ever fully recover from his alcoholism. Stafford knows returning the office will do him no good and hopes the adventure will help him in someway. Nate agrees and starts on the journey to locate the missionary in hopes that he can find her and convince her to accept the gift and keep billions of dollars away from the greedy Phelan children.
Grisham's success is due to his skill at crafting amazing stories and superb characters. His latest novel is no exception. Grisham called on on some of his own life experiences for inspiration. Grisham has visited the Pantanal region of Brazil twice and plans to go back. His experience with the swamp helps account for very believable scenes that involve the swamp, both its frightening reptile infested-side and its strange beauty and charm. Nate O'Riley is an interesting character -- he is flawed with dependency on alcohol, but has a heroic heart. You will find yourself rooting for him to stay on the right track and avoid another drinking binge. A highly imaginative plot and appealing characters make this story a winner.
---
Witness in Death by J.D. Robb
Berkley, March 2000
Paperback, 368 pages.
ISBN: 0425173631.
Ordering information:
Amazon.com.
Futuristic cop Eve Dallas is back in the 10th book in this gripping mystery series. Eve and her husband Roarke are attending a performance of Agatha Christie's famous play,
Witness for the Prosecution
, when one of the actors is killed when a real knife is substituted for the prop knife that was supposed to be used. Suddenly Eve is plunged into the theatrical world. Totally out of her element (she's more at home at the site of a brutal serial killing) Eve must wade through the collection of giant-sized egos and consummate acting skills to find a killer who is about to strike again.
Nora Roberts surprises us again with this decidedly different (and wildly entertaining) story in the Eve Dallas series. Paying homage to Dame Agatha Christie, Roberts gives us a theatrical "who done it" which is witty, well-plotted and funny, especially when the tough as nails Eve is forced to deal with posturing divas. The relationship between Eve and Roarke continues to grow, as does the one between Officers Peabody and McNab. Eve and Roarke's story resonates with strong emotional impact, and adds to the story immensely. You don't need to have read the other books in the series to understand what's going on, but after you've read one of the books you're sure to want to read all of the other ones in the series.
--Claire E. White
---
Mystery Reviews
Page One
|
Page Two
|
Page Three
|
Page Four
|
Page Five
Click Here to Return to the Book Reviews Index
---
More from Writers Write