Mystery/Thriller Book Reviews
Page Four of Five
Red, White, and Blue Murder by Jeanne M. Dams
Walker & Co., May 2000
Hardcover, 256 pages.
ISBN: 0802733417.
Ordering information:
Amazon.com.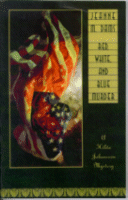 At the turn of the 19th century in South Bend Indiana, families such as the Studebakers ruled society with their grand estates and legions of servants, many of whom were immigrants. Hilda Johansson, a Swedish immigrant, is the head maid in the household. But Hilda does much more than polish the silver and turn down the beds: she is a very promising amateur sleuth (
See
,
Death in Red Lacquer
). When President McKinley is assassinated, the entire country is in an uproar over the emergence of a group of anarchists who want to overthrow the U.S. government. A friend of the Studebakers is found dead in his own warehouse, and his body is wrapped in an American flag. When the brother of Hilda's friend seems implicated in the assassination attempt, Hilda sets out to investigate the strange happenings in her adopted city.
South Bend in the early 1900s was rife with prejudice against the influx of foreigners brought over to supplement the workforce. The class system was alive and well; servants and immigrants were definitely second or third-class citizens in that society. Jeanne M. Dams does an excellent job of illustrating the unfairness of those times, although those issues never overwhelm the truly entertaining mystery plot which is the heart of the story. Hilda pushes the boundaries of what a servant girl could do in those times; her intelligence, curiosity and caring make her an endearing character. The insights into the day to day life inside the famous Tippecanoe Palace where the real Studebaker family lived is also quite absorbing. Historical and cozy mystery fans should welcome Hilda with open arms.
--Claire E. White
---
Run Jane Run by Maureen Tan
Warner Books, March 2000
Paperback, 292 pages.
ISBN: 0446609048.
Ordering information:
Amazon.com.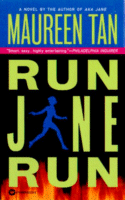 MI-5 agent Jane Nichols is back in action in this second installment of the hot new spy series. Jane has been living happily in Savannah, Georgia with her new love, but leaves him to take a job in England to rescue the kidnapped son of a prominent member of Parliament. The raid seems to go well, but it soon becomes clear that the son isn't the least bit interested in being rescued. Furthermore, the case has triggered memories of Jane's terrifying childhood trauma in which her parents were brutally murdered right in front of her eyes. Suddenly, she's on the run from her own agency, as she desperately tries to remember the face of the man that killed her mother and father. Violence is never far away from Jane, and she soon finds herself back in Savannah trying to help the man she loves -- and to escape her own past.
Jane Nichols is a complex woman. She is a deadly killer when she needs to be, and has a chameleon-like personality which allows her to blend into any situation. But Jane has a soft side as well, and hides a world of pain from her childhood. She is a captivating character, and her latest adventure will have readers clamoring for more of this intriguing and immensely entertaining series.
---
Mystery Reviews
Page One
|
Page Two
|
Page Three
|
Page Four
|
Page Five
Click Here to Return to the Book Reviews Index
---
More from Writers Write