Mystery/Thriller Book Reviews
Page Three of Five
Mrs. Pollifax Unveiled by Dorothy Gilman
Ballantine, February 2000
Hardcover, 224 pages.
ISBN: 0345436520.
Ordering information:
Amazon.com.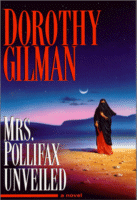 Emily Pollifax, wife, gardener and part-time spy for the CIA, bids her beloved Cyrus goodbye and heads off for Syria with her old comrade in arms, the handsome and rakish Farrell. Farrell and Emily are charged with finding an American woman named Amanda Pym, who bravely stopped a hijacking saving hundreds of lives, and then promptly disappeared. After Farrell and Emily land in Syria, things get sticky. The local government is having them followed, and everyone they talk to seems to die immediately afterward. Forced into hiding, they end up at an archeology dig helped by Joe Fleming, an American archeologist. The duo will find surprises out in the desert which could have international ramifications. They must use their ingenuity and creativity to rescue the mysterious Ms. Pym from terrorists and get valuable information back to the Americans in time to avert a civil war.
John Farrell is one of the most fascinating characters that Mrs. Pollifax has met on her many journeys for Carstairs of the CIA, and it's always a thrill when he's along for the ride. The two make a wonderful team, which is a bit like throwing James Bond and Jessica Fletcher together for an episode of
Mission Impossible
: funny, exciting and full of suspense. Mrs. Pollifax is unflappable, whether she's having tea with the garden club or traveling disguised as a peasant woman, and her observations about human nature are always on the mark. This is one long-running series which is still fresh and enjoyable. Her legions of fans will be extremely satisfied with Mrs. Pollifax's latest outing.
---
Pisces Rising by Martha C. Lawrence
St. Martin's Minotaur, March 2000
Hardcover, 240 pages.
ISBN: 0312202989.
Ordering information:
Amazon.com.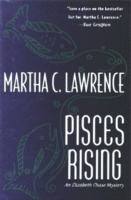 Psychic detective Elizabeth Chase is emotionally and physically exhausted from her last case, in which she suffered the terrible loss of her fiancé. She reluctantly agrees to take on a new case to search for information to assist in the defense of a murder suspect who was found passed out next to the gruesomely disfigured corpse of the Native American owner of the Mystic Mesa casino on the Temecu Reservation. The suspect, Dr. Horton, is a gambler whose addiction has destroyed his medical practice and his marriage. But Elizabeth senses that he is innocent of the murder charges. Elizabeth begins spending more time on the Temecu Reservation as she searches for clues to the real killer's identity. She soon finds that the Reservation is a hotbed of political intrigue over the question of gambling, and that racism is lurking just beneath the surface of the seemingly peaceful community. Soon Elizabeth herself is the victim of violence, and she must use all of her skills to save an innocent man and stop a killer from striking again.
Elizabeth Lawrence is one of the most interesting private investigator in mystery fiction today. Her psychic skills never provide a quick solution to the mystery; rather, they provide insight into people and give oblique clues which Elizabeth must decipher. The plot is well-constructed and fast-paced, with an interesting sidelight into the controversial issue of reservation gambling. Also interesting is a new character, the Native American shaman Sequoia, who helps Elizabeth work through her pain and sorrow over her loss.
--Claire E. White
---
Mystery Reviews
Page One
|
Page Two
|
Page Three
|
Page Four
|
Page Five
Click Here to Return to the Book Reviews Index
---
More from Writers Write
---