Mystery/Thriller Book Reviews
Page Two of Five
Hanging Hannah by Evan Marshall
Kensington, May 2000
Hardcover, 320 pages.
ISBN: 1575665506.
Ordering information:
Amazon.com.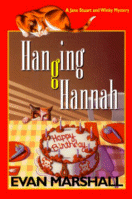 Literary agent and widowed, single mom Jane Stuart landed in
People
magazine after her last outing as an amateur sleuth. Ready to return to a normal life, Jane dives back into her world of cranky authors and difficult editors. But then a mysterious woman is found hanged in the woods near the inn where her son's birthday party is being held. When editor Holly Griffin gives Jane the chance to represent pop superstar Goddess, Jane is thrilled. But Goddess turns out to be a real handful, and Holly is found murdered at a launch party. Now Jane has two murders to investigate, and a third is not far behind. With the help of her tortoiseshell cat, Winky, and the hunky Lt. Stanley Greenberg of the Shady Hills PD, Jane must find a murderer who is about to strike again.
This is the second installment of Evan Marshall's delightful mystery series. Jane's foray into the pop world with youthful superstar Goddess is hilarious, and Jane herself is always fun to watch. The inhabitants of Shady Hills are a lively and interesting bunch, especially the members of Jane's knitting circle who hide a multitude of secrets beneath their knitting patterns and needles. Marshall keeps the pace quick and lively, and his take on the New York literary scene is slyly funny.
--Claire E. White
---
Evan and Elle by Rhys Bowen
St. Martin's Minotaur, February 2000
Hardcover, 224 pages.
ISBN: 0312252447.
Ordering information:
Amazon.com.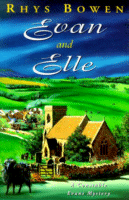 Constable Evan Evans, of the tiny town of Llanfair in North Wales is more used to sorting out local village problems than conducting a sophisticated arson investigation. But when an English couple's house is burned down and a Frenchwoman's restaurant is also torched, it looks as if Evans will have to assist obnoxious arson inspector Peter Potter in his investigation of what appear to be hate crimes by someone determined to rid Wales of foreigners. When the body in the burned restaurant turns out to have been stabbed before it was burned, the investigation takes Constable Evans and Sergeant Wilkins to England and to France in order to discover the identity of the body. They discover that Madame Yvette Bouchard has a few skeletons in her closet and must rush home in order to prevent another tragedy.
Spending time with Constable Evans and the inhabitants of Llanfair is like spending time with old friends. The inhabitants of Llanfair, from the fair Bronwyn Price, the schoolteacher, to the hotheaded Evans the Meat (the butcher) to the dueling pastors of rival churches, are all enormously diverting. The local Welsh scenery is vivid and makes one want to book a trip to Wales immediately. Rhys Bowen's series is charming and funny, and extremely well-executed. Fans of the village mystery will enjoy making the acquaintance of Evans and the other inhabitants of the quaint village Llanfair.
--Claire E. White
---
Mystery Reviews
Page One
|
Page Two
|
Page Three
|
Page Four
|
Page Five
Click Here to Return to the Book Reviews Index
---
More from Writers Write