St. Liebowitz and the Wild Horse Woman Review
St. Liebowitz and the Wild Horse Woman
by Walter M. Miller,. Jr.
Bantam Books, Nov., 1997.
Paperback, 432 pages.
ISBN: 0553107046.
Ordering information:
Amazon.com.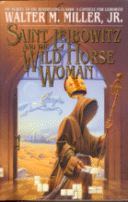 After Walter Miller wrote his classic work,
A Canticle for Leibowitz
, he virtually disappeared from the literary scene. A recluse, Miller, despite overwhelming requests from his fans, refused to publish another work. Finally, in 1989, he agreed to write a second novel. In 1995 it became clear to Miller, who was in his 70s, that he was unable to finish the last 100 pages of the book he had been working on for seven years. He hired noted science fiction writer Terry Bisson to complete the book using Miller's outline and scripted dialogue. Tragically, Miller committed suicide soon after. Bisson persevered and the result is
Saint Leibowitz and the Wild Horse Woman
, a tale set in the 34th century of the world described in
A Canticle for Leibowitz
. Bisson did an excellent job on a difficult task; his work is truly transparent.
Saint Leibowitz and the Wild Horsewoman
tells the tale of Monk Blacktooth St. George. An unhappy resident of the Leibowitz Abbey, St. George is suffering a crisis in faith struggling between the dictates of his Nomad upbringing and his religious vows and his increasingly secular visions of the wild horsewoman, a myth from his childhood. Offered a way out of the Abbey without renouncing his vows (which would result in him becoming a pariah, St. George is assigned to be the translator for Cardinal Brownpony. Traveling with Cardinal Brownpony to New Rome for the election of a new Pope he is thrust into a maelstrom of political intrigue and secular temptations, long forbidden by his vows.
St. Leibowitz and the Wild Horsewoman
is a longer and more complex tale than
A Canticle for Leibowitz
, more of a close-up view of one time period out of the many covered in the original novel. The humor, the symbolism and the social commentary are vintage Miller, although the pace is much slower and the supporting cast is much larger than that found in
A Canticle for Leibowitz
. Miller's storytelling skills still shine and his characters pulse with eccentric life. An intriguing tale from a talented, yet troubled, author.
---
More from Writers Write
---