A Canticle for Liebowitz Review
A Canticle for Liebowitz
by Walter M. Miller,. Jr.
Bantam Books., Oct., 1997.
Hardcover, 368 pages.
ISBN: 0553379267.
Ordering information:
Amazon.com.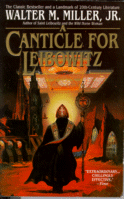 A Canticle for Leibowitz
was the first major American post-Apocalyptic novel. It tells the story of the Monks of the Order of Saint Leibowitz whose holy mission is to preserve what scraps of literature, knowledge and technology that exist in the world after the Flame Deluge (nuclear war) which destroyed Earth's civilization. The monks work tirelessly to preserve these relics of a happier time in the hopes of a spiritual and intellectual Renaissance that sometimes seems like it will never happen, given the world's rabid anti-technology views stemming from anger at the scientists who created the atom bomb which led to the destruction of modern civilization. The story traces the path of Earth's civilization from post-Apocalyptic confusion to the rise of civilization to the point where it destroyed itself once before. Can man overcome his own self-destructive tendencies? What is faith? These are the questions Miller addresses in his classic work full of anger, dark humor and the struggle between good and evil.
Miller's classic story, written nearly 40 years ago and reissued by Bantam in connection with Miller's new sequel,
Saint Leibowitz and the Wild Horse Woman
, rings as true today as it did in 1959 when it was first published. Miller's style of writing is unique. Wry, descriptive, engaging and vastly disturbing, Miller's prose hurls the reader into a parallel universe: Earth as it might have been if we had destroyed ourselves with nuclear weapons. The story follows the lives of the Monks of the Leibowitz Abbey from the discovery in an abandoned bomb shelter of the actual relics of Saint Leibowitz, the blueprint and the sacred shopping list, to the struggles of the Monks against the violent warlords who rule the world around them and the dispossessed Papal presence in New Rome. A thoughtful polemic which reads as fresh and current as if it were written yesterday,
A Canticle for Leibowitz
ranks with
Animal Farm
and George Orwell's
1984
as a classic work of English literature and of science fiction.
---
More from Writers Write
---