Romance Book Reviews
Page One of Two
After Twilight by Amanda Ashley, Christine Feehan, and Ronda Thompson
LoveSpell, September, 2001
Paperback, 395 pages
ISBN: 0505524503
Subgenre: Paranormal
Ordering information:
Amazon.com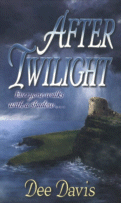 After Twilight
is a collection of three paranormal novellas by some of today's hottest rising romance writers. In "Masquerade," by Amanda Ashley, Leane, a young actress, is a member of the chorus of Phantom of the Opera, which is playing in Los Angeles. Dreaming of stardom, Leane is saved from attackers one night after the show by Jason Blackthorne. What she doesn't know is that Jason is an ancient vampire who longs to end his lonely existence. Can the love the of the right woman give him his life back and a chance for happiness? In "Midnight Serendade," by Ronda Thompson, a young wildlife photographer who likes to photographs wolves gets the shock of her life when the beautiful wolf she is photographing turns out to be a beautiful man -- when the moon isn't full, that is. Can love break the curse that haunts the handsome Rick Donovan? And in "Dark Dream," Christine Feehan takes us back in time in her popular Carpathian series. Prince Vladimir Dubrinsky sends out his most skilled warriors to fight the evil undead which so plagues mankind. Without lifemates, these brave warriors will eventually lose their emotions and be in danger of turning into the vampires they hunt, so they must be prepared to sacrifice themselves before that happens. Thousands of years later, the great hunter Falcon meets his lifemate. But is it too late to save Falcon from his fate?
Christine Feehan's story of when Prince Vladimir sent out his warriors to do battle will absolutely thrill fans of her popular Carpathian series; this novella about Falcon and his true love Sara is emotionally gripping and stunningly sensual. Ronda Thomson's werewolf story is truly romantic and moving, and "Masquerade" is a clever retelling of the Phantom of the Opera story itself, using the play as a backdrop. For romance readers who like to walk the dark side,
After Twilight
is the perfect midnight indulgence.
---
Come Back to Me by Josie Litton
Bantam, November, 2001
Paperback, 371 pages
ISBN: 0553581643
Subgenre: Historical
Ordering information:
Amazon.com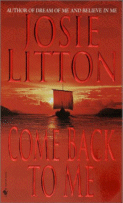 In this final installment of Josie Litton's Viking trilogy, we meet the third Viking/Saxon couple whose marriage has been arranged to keep the fragile peace instituted by ninth century England's King Alfred. Dragon Hakonson, the younger brother of Wolf and the best friend of Hawk (both featured in the first two books,
Dream of Me and Believe in Me
) has agreed to marry a young Saxon girl, who is the daughter of a powerful Saxon lord. On his way to the wedding, he meets a noble young lad who is clearly running away from home. To his immense surprise, the lad turns out to be a beautiful young woman (although he does not realize that she is his bride to be, Lady Rycca). The two conceal their identities and fall in love. Naturally, when they discover that they are to be wed, there is mistrust and hurt feelings aplenty. Rycca saw her best friend murdered by Vikings, and is especially horrified to have fallen in love with a Viking herself. And to make things worse, an old enemy is plotting the destruction of the marriage, in order to foment war between the Vikings and the Saxons.
Come Back to Me
is another outstanding entry by the talented Josie Litton. Ninth century England is a very difficult era to make accessible and interesting to modern readers, but Josie Litton makes this time period come to life, with fascinating historical tidbits and vivid characters who will pull at your heartstrings. Hawk and Rycca are engaging characters, and a minor supernatural element (Rycca can easily determine whether people speak the truth or not) adds just the right touch of magic to this enthralling story.
---
Romance Reviews
Page One |
Page Two
Return to Book Reviews Index
---
More from Writers Write