Reviews of Writing Books
Page Two of Two
Fast Fiction, by Roberta Allen
Story Press, June, 1997.
Trade Paperback, 208 pages.
ISBN: 1884910270
Ordering information:
Amazon.com.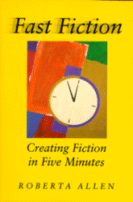 Fast Fiction
uses a unique teaching method of creating very short stories very quickly and then working up to longer stories and novels. The first section of the book explains the short-short story including what a short-short story is, how they compare to longer stories, how to get material for short-short stories and how to polish them. The second section of the book includes exercises where you are asked to create short-stories in five-minutes. In the exercises you are either given the subject of the story -- "Write a story about something narrow" or given a sentence to use in a story such as "She had a suitcase with her." Another section asks you to write a story from a sentence describing a photograph you are shown.
Fast Fiction
is an excellent way to get you to think creatively and learn to formulate ideas that you can then turn into longer pieces of work. Using the techniques taught in
Fast Fiction
is a great way to conquer writers block as well as an excellent introduction to the craft of writing for beginners.
---
Preparing Your Manuscript, by Elizabeth Preston
The Writer, Jan., 1994.
Trade Paperback, 113 pages.
ISBN: 0871161729
Ordering information:
Amazon.com.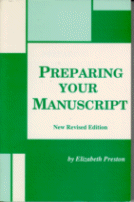 Preparing Your Manuscript
is an excellent reference book that focuses solely on how to get your short stories, book manuscripts, greeting cards and play or television scripts ready for submission. The book covers everything involved from finding and correcting mistakes in grammar, punctuation and spelling to typing and formatting the manuscript. It includes plenty of samples and examples to help you submit a correct manuscript, including a list of standard proofreader's marks. The last couple of chapters cover how to mail your manuscript as well as copyright and rights information. The book also contains a list of selected reference books for more in-depth advice.
Preparing Your Manuscript
is a great quick-reference guide for the writer looking to finalize a finished project and submit it professionally to the publisher. The grammar and punctuation examples combined with extensive formatting information makes this reference especially useful.
---
Write on Target, by Dennis E. Hensley and Holly G. Miller
The Writer, Aug., 1995.
Trade Paperback, 155 pages.
ISBN: 087116177X
Ordering information:
Amazon.com.
Write on Target
is a helpful guide to writing professional non-fiction. The instruction is separated into five chapters or phases, each of which includes examples and exercises. The chapters include: "Preparing for a Writing Career", which includes a useful exercise that helps you compute your earning power as a writer, "Learning to Write Professionally" which covers where to get your ideas, effective interview tips and creating winning titles and endings, "Finding Your Niche" which explains different types of non-fiction writing such as travel articles, book reviews, how-to articles and humor writing and what works with each type, and "Selling Your Manuscript" which covers topics such as researching markets, query letters, book proposals, contracts, understanding royalties and the importance of keeping financial records. The last chapter, "Advancing Your Writing Career" helps you to plan your future and determine your goals as far out as thirty to forty years from now.
The book is packed with practical advice, examples and enlightening exercises.
Write on Target
is a wonderful program for nonfiction writers looking for a career in writing.
---
Click Here For Page 1 of Writing Book Reviews
Return to Book Reviews Index
---
More from Writers Write