Reviews of Writing Books
Page One of Two
Building Fiction : How to Develop Plot & Structure, by Jesse Lee Kercheval
Story Press, July, 1997.
Trade Paperback, 208 pages.
ISBN: 1884910289.
Ordering information:
Amazon.com.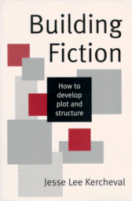 Building Fiction
provides a structured approach to developing stories and novels. The book guides readers with instruction, examples and exercises to help them create their stories and make sure their stories remain consistent, logical and interesting. The author, Jesse Lee Kercheval, adds interesting facts and personal experience and thoughts. For example, when introducing the subject of endings in fiction Kercheval states "When editors send back a short story or reject a novel, nine times out of ten they will say the ending didn't work for them... As a writer I've developed an allergy to hearing the words didn't work and ending together." The advice given in the book covers such subjects as openings, point of view, characters, creating conflict, endings and revision. The last few chapters help you determine whether your work should be a short story, novel, novella, etc. and how to effectively use each different story-telling style.
Kercheval's
Building Fiction
is an excellent book for beginning writers because it teaches them how to take their ideas and turn them into well-developed stories.
---
The Elements of Mystery Fiction, by William G. Tappley
The Writer, Aug., 1995.
Trade Paperback, 132 pages.
ISBN: 0871161761
Ordering information:
Amazon.com.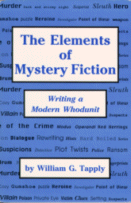 This guide to writing mystery fiction focuses on the components of the mystery story - finding ideas, the setting, point of view, characters, dialogue, using conflict and tension. The author, William G. Tapply, a popular mystery author, provides examples of his work and other successful mysteries to show you what works. The book covers all aspects of the mystery including secondary characters which Tapply recommends you not ignore; "...every character who steps onto the page...could be a suspect. Readers look for clues to the mystery's solution in these characters." The final chapter offers insight into revising and submitting your final manuscript.
Tapply's book is both inspirational and practical and will be of great benefit to writers looking to break into the mystery genre.
---
Click Here For Page 2 of Writing Book Reviews
Return to Book Reviews Index
---
More from Writers Write
---