Mystery/Thriller Book Reviews
Page Six of Six
Tanner on Ice by Lawrence Block
Signet, August 1999.
Paperback, 309 pages.
ISBN: 0451194101.
Ordering information:
Amazon.com.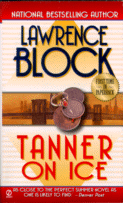 Evan Tanner, the spy who never sleeps, has been on ice -- literally -- for 25 years, ever since the Cold War ended. After being rescued from his cryonic chamber, he has some catching up to do. Email, the Internet, Women's Lib, multiple revolutions and the breakup of the USSR are just a few of the items to which he'll have to adjust. But, hey, he's flexible and he never sleeps so he's got plenty of time to cram for his next assignment: to assassinate a Nobel prize-winning activist and stir up political unrest in Burma. Tanner's not all that thrilled with being an assassin and so he sets out to destabilize the government his own way -- largely by accident. From here on, it gets complicated with lots of guns, temples, local scenery, spies and, of course, a beautiful companion.
Thank god for cryonics -- our favorite insomniac spy is back in action. Evan Tanner is one of Lawrence Block's best characters. He's what you might get if James Bond were channeling P.G. Wodehouse, and he's absolutely hilarious to read about. The tone is deadpan, witty and wry, and the action never stops. One of the best gags of the original series was the plethora of offbeat societies and causes to which Tanner belonged (
e.g.
, The Flat Earth Society). What's ironic is that many of those so-called lost causes of the 1960s have done quite well -- like Croatian independence, for example. This is, of course, a big shock to Tanner, and just fuels his desire to find even more unusual groups to support. Let's hope that Evan Tanner is here to stay for awhile. Highly Recommended.
---
The Thief of Venice by Jane Langton
Viking, June, 1999.
Hardcover, 244 pages.
ISBN: 0670882100.
Ordering information:
Amazon.com.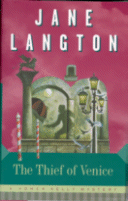 Professor Homer Kelley and his wife Mary (also a Harvard professor) are in Venice for a rare book convention. While Homer glories in the delights of rare manuscripts, Mary is out taking Venice by storm with a camera -- and a delightful companion who just may be a ruthless killer. When Mary's photos reveal a missing woman, things get especially complicated as the Kelleys face a marital crisis, and a murderer sets out to kill again to keep a fabulous treasure from World War II a secret.
This is the fourteenth adventure of the Kelleys, and it is extraordinarily well-done. The descriptions of Venice are marvelous, and the Kelley's relationship takes some interesting and complex turns. Jane Langton's wonderful line drawings add to the enjoyment of the book, as well. Langton fans should love this latest entry.
---
Mystery Reviews
Page One | Page Two | Page Three | Page Four | Page Five | Page Six

Click Here to Return to the Book Reviews Index




---
More from Writers Write
---