Mystery/Thriller Book Reviews
Page Three of Six
The Flower Master by Sujata Massey
HarperCollins, May 1999.
Hardcover, 291 pages .
ISBN: 0060192283.
Ordering information:
Amazon.com.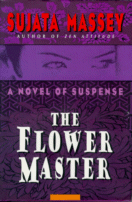 Japanese-American antiques dealer Rei Shimura loves her adopted home of Tokyo, although she's still getting used to many of the local customs -- which seem odd to an American. Rei has enrolled in the local ikebana school which teaches the ancient and respected art of flower arranging. When a respected but obnoxious teacher is found stabbed to death with a pair of ikebana scissors that Rei and her aunt were going to present to her as an apology for an argument in class, Rei's Aunt Norie becomes the prime suspect. Rei must find the real murderer while fending off the attentions of one of the wealthiest young men in Japan and heir to the famed Kayama school.
Rei Shimura makes her hardcover debut in this third entry in the series (
See
,
The Salaryman's Wife
and
Zen Attitude
). Sujata Massey is in fine form for this riveting story of love, greed and passion in the land of the cherry blossoms. Massey's grasp of local culture is thorough, and is only exceeded by her skill as a storyteller. Rei remains a compelling lead, who grows in each book. The day to day life of a young woman in Japan is fascinating, as is the mystery. Don't miss this one. Highly Recommended.
--Claire E. White
---
Gideon by Russell Andrews
Ballantine Books, June 1999.
Paperback, 435 pages.
ISBN: 0345423461.
Ordering information:
Amazon.com.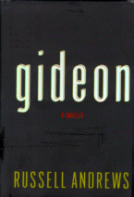 Carl Granville, known by friends as "Granny", is a struggling author. He has sent a novel to Maggie Peterson, a high-powered New York literary agent, expecting rejection, but is shocked when she approaches him at a cocktail party and is not only friendly and engaging, but offers him a book contract. However, when he meets up with her later he discovers that the subject of the contract is not
his
novel at all. Instead, she wants him to ghostwrite an entirely different novel, under conditions of complete secrecy. The novel will be a fictionalized account of the life of a character, named Gideon, but will be based on events that actually happened. Granny can't afford to turn down a quarter of a million dollars, so he agrees to the strange terms. Granny soon finds that he is in way over his head when a thug shows up at his door with the photographs and letters for him to use to write the novel. He will only be shown the items for the duration of the day, he cannot retain the items, and the thug will stay and watch him to make sure nothing happens to the materials. Each day the thug brings by new materials and takes what Granny has written. Granny soon realizes that he is writing some high-powered person's secret murder confession, probably without their knowledge. After his agent and a neighbor girl he had a rendezvous with turn up dead, Granny is blamed and soon the FBI, the police and the powerful figure in the novel are after him. Granny, with the help of Amanda Mays, his ex-girlfriend and journalist, are on the run to find out who Gideon really is and gather evidence before they both wind up dead or in jail.
Gideon
was created by a pair of mystery/thriller novelists, Peter Gethers and David Handler, who are writing under the pseudonym of Russell Andrews. Peter Gethers is an editor, publisher and author of fiction and nonfiction books, including the bestselling nonfiction books,
The Cat Who Went to Paris
and
A Cat Abroad
. David Handler is a popular mystery author and has won an Edgar and an American Mystery Award for his series of eight novels featuring amateur sleuth Stewart Hoag. The two authors must work well together, because
Gideon
is pure delight, with fast pacing, interesting characters and a shocking conclusion. Highly Recommended.
---
Mystery Reviews
Page One | Page Two | Page Three | Page Four | Page Five | Page Six

Click Here to Return to the Book Reviews Index




---
More from Writers Write
---