Mystery/Thriller Book Reviews
Page Four of Six
Jade Palace Vendetta by Dale Furutani
William Morrow, July 1999.
Hardcover, 222 pages.
ISBN: 0449004074.
Ordering information:
Amazon.com.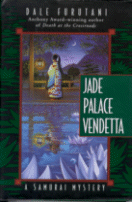 Matsuyama Kaze is a ronin, or masterless samurai, in 17th century Japan. He travels the country on a quest to find the missing daughter of his former master and Lady. While following up on a lead on the location of the missing child, he saves a wealthy merchant from a deadly attack on the famous Tokaido Road. He then agrees to act as bodyguard for the merchant for the rest of his journey. But Kaze's courageous act will have some unexpected consequences; he soon becomes embroiled in a whirlwind of intrigue, deception and murder.
This is the second book in the trilogy featuring the masterless samurai, Matsuyama Kaze. Kaze brings to mind Sir Lancelot, a brilliant swordsman with an adventurous soul who is on a quest which he is honor-bound to complete. But Kaze is not just an honest and forthright warrior -- he also has a sly sense of humor, which makes the series irresistible. The plot itself is full of adventure and mystery, and the characters -- especially the Elder Grandma who's on a sanctioned revenge mission -- are priceless.
Jade Palace Vendetta
is an exceptional piece of writing, and the haikus at the beginning of each chapter are lovely. Another winner from the talented Dale Furutani. Highly Recommended.
--Claire E. White
---
Nights in White Satin by Michelle Spring
Ballantine Books, June 1999.
Hardcover, 276 pages.
ISBN: 034542493X.
Ordering information:
Amazon.com.
Private investigator Laura Principal is on a routine security job at the annual May Ball, a party at Cambridge University where students celebrate the end of finals. Everything goes pretty smoothly, but the next day Laura finds out that a young girl had disappeared from the party without her or her coworkers' knowledge and school master Philip Patterson, hoping to keep the incident quiet, hires Laura to track down the missing young woman. The girl, Katie Arkwright, was there with her Cambridge boyfriend Jared Scott-Pettit. Katie was not a Cambridge student, but attended Anglia University, a much less prestigious school looked down upon by most Cambridge faculty and students. After some initial investigation, Principal discovers that the girl had been gang raped by Cambridge alumni and students, an incident which was hushed by school officials and academics, including Stephen Fox, an alumni and senior tutor. However, Stephen Fox suggests to Laura that young Katie may have been a hooker. As more controversies emerge and bodies start to pile up, Laura must discover who is behind the murders and just what they have to do with Katie's disappearance.
Michelle Spring has penned another exciting mystery with
Nights in White Satin
. This is the fourth novel starring private investigator Laura Principal -- this one is an intriguing story set in and around Cambridge University. The characters are especially intriguing and the story points out the chauvinism and superiority felt by some Cambridge students and staff as well as some of the secret double lives they live. Interesting characters and the unique setting make this another appealing addition to the Laura Principal private eye series.
---
Mystery Reviews
Page One | Page Two | Page Three | Page Four | Page Five | Page Six

Click Here to Return to the Book Reviews Index




---
More from Writers Write
---