Mystery/Thriller Book Reviews
Page Five of Six
The Second Sorrowful Mystery by Jonathon Harrington
Write Way, June 1999.
Hardcover, 240 pages.
ISBN: 1885173377.
Ordering information:
Amazon.com.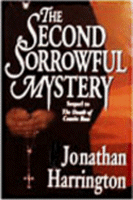 American Danny O'Flaherty has fallen in love with the green hills of Ireland, and moves to Dublin to take a teaching job. He spends many weekends in Ballycara, visiting his good friend, Father O'Malley. But something is amiss in the charming Irish village. Father O'Malley said Mass one Sunday, then promptly disappeared. Danny, who had received an urgent summons from the priest, hurries to the village and finds Father O'Malley dead in a locked basement below the church. Now the hunt is on to find a killer -- before he strikes again.
This is the second book in the Danny O'Flaherty mystery series, and it's another winner. The Irish village provides a wonderful backdrop for Danny's sometimes bumbling sleuthing attempts. With a large cast of possible suspects, a zippy pace and a delightful locale, this is sure to please lovers of the classic English village murder mystery.
---
Standing in the Shadows by Michelle Spring
Ballantine Books, April 1999.
Paperback, 343 pages.
ISBN: 0345424921.
Ordering information:
Amazon.com.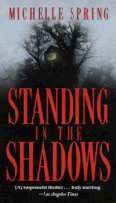 Howard, the older brother of a young murderer, asks private investigator Laura Principal to look into why his brother Darryl Flatt murdered his foster mother when he was only eleven years old. Offhand, Laura recollects facts from her memory about the highly publicized murder where Darryl dropped a cement block from a tree fort on top of the old lady who was taking care of him, killing her. Laura asks Howard why he wants her to look into the case, because it is pretty clear his brother was guilty. He says he knows his brother is guilty (Darryl has even admitted his guilt to him), but he just wants to know
why
Darryl did it. But no one connected to the case wants to talk to her, and it's soon clear that there's more to this incident than appeared at first glance.
Standing in the Shadows
is an intriguing murder mystery set in England, with scores of interesting characters and subplots, including an interesting sideline about a bicycle-riding flasher. A well thought-out mystery that will delight private eye and cozy mystery fans.
---
Mystery Reviews
Page One | Page Two | Page Three | Page Four | Page Five | Page Six

Click Here to Return to the Book Reviews Index




---
More from Writers Write