Mystery/Thriller Book Reviews
Page Two of Six
The Devil's Workshop by Stephen J. Cannell
William Morrow, September 1999.
Hardcover, 416 pages.
ISBN: 0688166180.
Ordering information:
Amazon.com.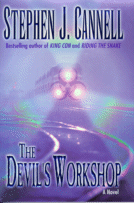 Stacy Richardson is about to realize her dream of becoming a microbiologist. She's in the middle of her oral exams, when she gets a horrifying message -- her beloved husband has committed suicide. Finding it hard to believe that her husband would take his own life, Stacy jets off to Maryland to the military base where her husband was working. What she finds convinces her that there was something suspicious about his death. Her investigation will lead her to a racist demagogue who's gotten his hands on the ultimate bioweapon -- one that can target victims by their DNA. It's up to Stacy and an intriguing collection of people she meets on the way to stop a horrible disaster.
The Devil's Workshop
is a gripping tale of how biotechnology can be used to further the ends of those who think ethnic cleansing is the answer to the world's problems. As is usual with Cannell's novels, the dialogue and action scenes are unsurpassed, and Stacy, the heroine, is an engaging lead. The technology in the book has actually been achieved in the lab, which makes the bioweapons as ethnic cleansing tools scenario all the more frightening. Be prepared for an all-nighter on this one. Highly Recommended.
---
Dirty Pool by Steve Brewer
St. Martin's Press, March 1999.
Hardcover, 260 pages.
ISBN: 0312202032.
Ordering information:
Amazon.com.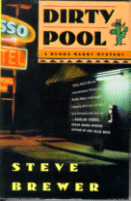 Albequerque p.i. Bubba Mabry is back in action in this latest installment of the popular series. If there's one person Bubba can't stand, it's his rival William J. Pool. So when Pool shows up to offer Bubba a job finding the missing son of a Texas millionaire, Bubba is tempted to tell him to get lost. But he needs the money, and the next thing he knows he's hip deep in the local punk scene trying to deliver a ransom for the kidnapped kid. Or is it really a kidnapping?
Bubba is a true original. He's a regular guy with a regular (albeit sometimes shrewish) wife who has a way of stumbling into dangerous situations. This time out, he has to deal with his long lost father (who seems to be having trouble with reality) in addition to a dangerous kidnapping case where all is not as it seems. The real fun here is just hanging out with Bubba, seeing what will happen next and soaking up the local color. P.I. fans will enjoy the ride.
---
Mystery Reviews
Page One | Page Two | Page Three | Page Four | Page Five | Page Six

Click Here to Return to the Book Reviews Index




---
More from Writers Write
---