Mystery/Thriller Book Reviews
Page Five of Five
Missing Marlene by Evan Marshall
Kensington, June, 1999.
Hardcover, 320 pages.
ISBN: 1575664208.
Ordering information:
Amazon.com.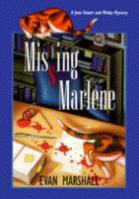 Literary agent Jane Stuart has been unhappy with her latest nanny, Marlene. Forced into hiring her best friend's irresponsible daughter, Jane is upset when Marlene fails to pick up her son after school. But when Marlene disappears without a trace, Jane feels compelled to investigate the strange disappearance. The more she looks into Marlene's life, the stranger things get -- and it's no fun hearing from everyone how much Marlene hated working for Jane. When Jane finally gets a little too close to the truth it looks like someone would be just as happy if Jane would also disappear -- permanently.
This is the first novel from literary agent Evan Marshall. With some cozy elements such as Winky the detecting cat and a suburban background,
Missing Marlene
nevertheless has some darker elements which give the writing a nice edge. The background of the day to day trials and tribulations of a literary agent makes for absolutely wonderful reading, and Jane herself is a compelling heroine. An excellent start to what will hopefully be a long series.
---
Mood to Murder by Joyce Christmas
Fawcett Gold Medal, June, 1999.
Paperback, 178 pages.
ISBN: 0449150127.
Ordering information:
Amazon.com.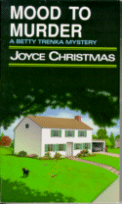 Retired office manager Betty Trenka is making a new life for herself in East Moulton, Connecticut. Never one to while away the day eating bon bons and watching soap operas, or, God forbid, doing the Betty Crocker thing, Betty decides to take a job as a temp at the local high school, where some very disturbing undercurrents are swirling. 14 year-old Tommy Rockwell is Betty's neighbor and part time lawn mower. All the other kids pick on Tommy, and he's turned to a wildly unsuitable mentor: the dangerous older Brad and his witchcraft-practicing main squeeze, Raven. Brad and Raven are teaching a philosophy of violence and power to a cadre of enraptured teens. As strange incidents in the town escalate, Betty begins to investigate, feeling sure that something bad is going to happen in East Moulton. She's right, and soon is up to her ears in murder, witchcraft and today's disaffected youths.
The latest Betty Trenka novel has an interesting, darker edge as Betty takes on the angst and misery of unhappy teens in a small town. With some uncomfortably close parallels to the news headlines of today, the story takes a real look at the issue of who is providing moral guidance for today's teens and the sometimes shocking consequences of the merciless teasing of the class nerd. Betty herself is a delight to watch -- she's as savvy as Miss Marple and her detective prowess would give Jessica Fletcher a run for her money. With the subtle sense of humor and the compelling writing style which marks all of Joyce Christmas' books, this is one story you won't want to miss, whether your taste runs to cozies or to medium-boiled detective stories. Highly recommended.
--Claire E. White
---
Mystery Reviews
Page One | Page Two | Page Three | Page Four | Page Five

Click Here to Return to the Book Reviews Index




---
More from Writers Write