Mystery/Thriller Book Reviews
Page Four of Five
The Face Changers by Thomas Perry
Ivy Books, April, 1999.
Paperback, 421 pages.
ISBN: 0804115400.
Ordering information:
Amazon.com.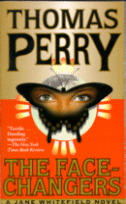 Jane Whitfield has an unusual occupation: she helps people disappear. A member of the Wolf Clan of the Seneca tribe, Jane draws upon her heritage in her dangerous profession. When she married doctor Carey McKinnon, Jane expected to hang up her travelling shoes for good. But when her husband's old mentor is falsely accused of a horrible murder Jane agrees to help him disappear. But what she doesn't know is that someone else is pretending to be Jane as part of a sophisticated con game. Now Jane and the accused doctor are on the run, facing not only the Feds but a frightening group of pros who would feel better about things all around if Jane were dead.
Perry fans were disappointed when Jane Whitfield decided to marry and give up her dangerous profession. But rejoicing is the order of the day when the best female action character around springs back into business. With plot twists every other minute and a spellbinding sense of suspense,
The Face Changers
will have you reading long into the night to find out what happens next. Another page-turner from the multi-talented Thomas Perry.
---
Fade to Black by Della Borton
Fawcett Gold Medal, April, 1999.
Paperback, 274 pages.
ISBN: 0449004074.
Ordering information:
Amazon.com.
Gilda is not having a good time. Her lover, Liz, has left her and she must return to Eden, Ohio for the funeral of her aunt, the famous screen star, Mae Liberty, whose dying word was "Rosebud." The entire Liberty clan is in attendance; they're all in show business and they're all totally nuts. Gilda finds out that her aunt has left her the local film theater in her will. When a rival theater owner is killed and his theater burned to the ground, Gilda is starting to look like the prime suspect. Realizing that her life will never get back to normal until she finds the murderer, Gilda sets out to investigate. What she finds is layer upon layer of family secrets and lies -- and a murderer who wants Gilda out of the way.
Fade to Black
is a fun, family whodunit with an interesting heroine. Although the cast of characters is a bit excessive, the quirky tales of a show business family are entertaining to anyone who loves movies.
---
Mystery Reviews
Page One | Page Two | Page Three | Page Four | Page Five

Click Here to Return to the Book Reviews Index




---
More from Writers Write
---