Mystery/Thriller Book Reviews
Page Three of Five
Death of an Evangelista by Allana Martin
St. Martin's Press, March 1999.
Hardcover, 260 pages.
ISBN: 0312198531.
Ordering information:
Amazon.com.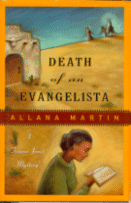 Trading post owner Texana Jones is back in this latest installment of this excellent regional mystery series set in La Frontera -- the borderland between Texas and Mexico in Presidio County, Texas. When Texana mistakenly enters a Mexican taxi carrying a murdered passenger, things go from bad (being caught in Mexico near a crime scene) to worse (being hauled off to the local jail for questioning). After her release, Texana is plunged into several other, seemingly unrelated mysteries such as the increasing tensions in the town between the Catholics and a mysterious female evangelist, and a missing fortune in relics stolen from Mexican churches. With the help of her veterinarian husband and her myriad local friends, Texana is sure to find answers -- though they may not be to her liking.
This latest Texana Jones story digs even deeper into the unique culture which exists on both sides of the Rio Grande. With layers of complexity, it is a society full of contradictions -- both religious and political. Allana Martin has a likeable, friendly style, with a hint of menace lurking just under the surface, which makes for compelling reading -- whether the subject matter is the town's annual Christmas Posada or murder. Regional fans shouldn't let this one get away.
---
East of A by Russell Atwood
Ballantine, Feb., 1999.
Hardcover, 211 pages.
ISBN: 0345427769.
Ordering information:
Amazon.com.
In the Lower East Side of New York is Alphabet City -- peopled by hustlers, private eyes, hookers and lots of shady characters. P.I. Payton Sherwood was just stepping out to get some milk and cereal when he happens on some guys beating up a young girl. He intervenes, gets beaten up himself -- and then has his Rolex watch stolen by the damsel in distress herself. Determined to find his watch and the girl, he sets out on a trail which will lead him through dance clubs, tenements and homeless hangouts and embroil him in drug dealing and murder -- just for starters. Still, a case is a case, and Payton is determined to see it through to the end, even if his client is himself.
East of A
is a marvelous noir urban thriller that will delight both hardboiled and medium-boiled detective story fans. First-time author Russell Atwood knows his stuff; he was the managing editor of
Ellery Queen's Mystery Magazine
. Atwood takes a genre that has gone stale and infused it with life and edgy excitement. The author clearly loves New York and it shows in his inspired, evocative descriptions. Payton Sherwood is a classic p.i. loner, mourning a lost love -- so why does the character feel so new? This is one p.i. we hope to see a lot of in the future. Highly recommended.
---
Mystery Reviews
Page One | Page Two | Page Three | Page Four | Page Five

Click Here to Return to the Book Reviews Index




---
More from Writers Write
---