Mystery/Thriller Book Reviews
Page Two of Five
The Company of Cats by Marian Babson
St. Martin's Press, April, 1999.
Hardcover, 183 pages.
ISBN: 0312199244.
Ordering information:
Amazon.com.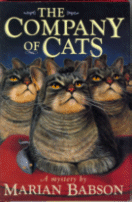 Annabel Hinchby-Smythe is elated when the wealthy and reclusive tycoon Arthur Arbuthnot mistakes her for a famous interior designer and offers her a fabulous sum of money to redecorate his London apartment. Annabel, who makes her living by peddling gossip to the tabloids, knows that she has hit a goldmine when she was invited inside the Arbuthnot inner sanctum. When she arrives at the Arbuthnot apartment, she finds a ghastly decorative scheme sorely in need of a revamp and a collection of some of the most obnoxious relatives to be found in murder mystery history. When Arbuthnot is found murdered, and it's discovered that he's left his entire estate to his cat, all the obnoxious relatives go in search of the doomed feline. Annabel promptly kidnaps the cat to save its life, and the hunt is on for a killer.
With her latest book, Marian Babson has cooked up a cozy tale which should delight her legions of fans. Annabel is a wonderful character: martini-swilling, with a bent for delicious gossip and a soft spot for furry felines in danger. The rest of the characters are incredibly distasteful (they keep trying to kill an innocent cat!). The insights into interior decoration are quite funny, as is Annabel's take on the Arbuthnot menagerie. Another winner from the prolific Babson.
--Claire E. White
---
Death al Dente by Peter King
St. Martin's Press, April, 1999.
Hardcover, 249 pages.
ISBN: 0312198914.
Ordering information:
Amazon.com.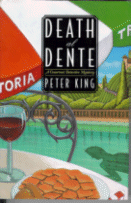 The Gourmet Detective springs back into action -- this time he is sent to Italy to find the perfect chef for a new top-notch restaurant being opened in London by renowned actor/restaurateur Desmond Lansdowne. But what, at first, seems like a delightful assignment soon becomes a nightmare with someone trying to kill the famed gourmet. In between incredible meals with lots of local wines, the Gourmet Detective and his new sidekick, the lusciously beautiful Francesca, set out to find a murderer and the best chef in Italy -- who may turn out to be the same person.
The Gourmet Detective (still nameless) in Italy -- one's first reaction would surely be, "Who could ask for more?" And when the story is sticking to standard Italian subjects such as delicious food and passionate romance, it succeeds quite well. But the plot this time out is a little over the top; it's not as well-constructed as earlier adventures such as
Spiced to Death
(a marvelous book). Still, overall, King does an excellent job with the characters, the passion, and, of course, the food. Those with a yen for food and travel will be especially pleased.
--Claire E. White
---
Mystery Reviews
Page One | Page Two | Page Three | Page Four | Page Five

Click Here to Return to the Book Reviews Index




---
More from Writers Write
---