Mystery/Thriller Book Reviews
Page One of Five
Agatha Raisin and the Wizard of Evesham by M.C. Beaton
St. Martin's Press, April, 1999.
Hardcover, 196 pages.
ISBN: 0312198221.
Ordering information:
Amazon.com.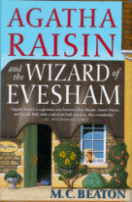 Depressed over the absence of her sometime fiancé, James, and the disastrous results of a home dye job to color the grey in her hair, Agatha Raisin heads off to see the Wizard of Evesham, a handsome young hairdresser with a devoted following, said to work miracles on less than perfect hair. Women like Mr. John so much, in fact, that they seem to pour out all of their innermost secrets to him. Soon, Agatha feels much more cheery -- the charming hairdresser is actually making a pass at her. When the hairdresser is found poisoned, Agatha takes it upon herself to find the killer, with the help of her friend, Sir Charles.
This is Agatha Raisin's eighth adventure, and it doesn't disappoint; in fact, it's extremely enjoyable. The incredibly annoying fiancé James is blessedly missing from the story, and the wonderful wit and humor of M.C. Beaton are much in evidence in this story of blackmail and murder. The charming rascal Sir Charles makes for entertaining reading, and Agatha is as irrepressible as ever.
--Claire E. White
---
The Burglar in the Rye by Lawrence Block
Dutton, July, 1999.
Hardcover, 280 pages.
ISBN: 0525945008.
Ordering information:
Amazon.com.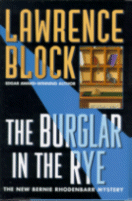 Bookseller by day and gentleman burglar by night Bernie Rhodenbarr is touched by the story a young woman tells him one day in his bookshop. It seems that the young woman has had a tempestuous affair with one of the most reclusive and influential Salingeresqe writers of the day -- Gulliver Fairborn. It seems that the letters that Gully wrote to his ex-agent, Anthea Landau, are about to be auctioned off by that esteemed lady. Bernie, a fan of Fairborn, agrees to steal the letters to be returned to Fairborn. He checks into the elegantly faded Paddington Hotel, where Ms. Landau resides, only to find Ms. Landau dead, the letters gone and the police hot on his trail. Where are the letters? What were Alice Cottrell's real motives in hiring Bernie? Who wanted those letters bad enough to commit murder to get them? What did Bernie do with the expensive rubies he lifted from another guest's room on his way back from Anthea's apartment? In classic Rhodenbarr style (with a fabulously done "assemble the suspects" scene at the end) all the ends are tied up nicely, although your head may be spinning by the time the explanations are through.
Another Bernie Rhodenbarr mystery is cause for rejoicing. With the classic wit, sly humor and wonderful repartée that are the hallmarks of this series, Bernie dances his way through another caper that you won't want to end. The Paddington Hotel is a wonderful creation, and so are the people who live there. All in all, you won't find a better way to while away a summer's day than to join Bernie in another heist. Highly recommended.
--Claire E. White
---
Mystery Reviews
Page One | Page Two | Page Three | Page Four | Page Five

Click Here to Return to the Book Reviews Index




---
More from Writers Write
---