Mystery/Thriller Book Reviews
Page Six of Six
Swimming to Catalina by Stuart Woods
HarperCollins, May 1998.
Hardcover, 311 pages.
ISBN: 0060183691.
Ordering information:
Amazon.com.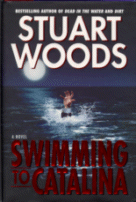 Ex-cop investigator/attorney Stone Barrington is still at loose ends after his love Arrington ("we must never marry," she says) left him to marry the devastatingly handsome movie star Vance Calder, who just happens to be a friend of Stone's. So he is somewhat astounded when he receives a call from Vance telling him that Arrington has disappeared and begging Stone for his help. Stone obligingly makes the trip to Hollywood, where he is wined, dined and even groomed to be a leading man. When Stone starts investigating the disappearance of his former love, suddenly his old friend can't wait to put him on the first plane back to New York. Of course, Stone doesn't put up with that for a moment and delves more deeply into to Vance's background. What he turns up is a hotbed of intrigue, violence and Mob money. Stone is forced on the run, making frequent stops to eat at fabulous restaurants, romance beautiful women and deliver hilarious observations on the strange world that is Hollywood.
With his usual wit and panache, Woods creates a fast-paced, suspenseful story that will have readers, at turns, breathless, thoughtful and laughing out loud. Stone lives a life that even James Bond might envy, and his adventures are a must-read for anyone who likes style, wit and nonstop suspense.
--Claire E. White
---
Uncertainty by Michael Larsen
Fawcett Columbine, Feb., 1998.
Paperback, 261 pages.
ISBN: 0449912361.
Ordering information:
Amazon.com.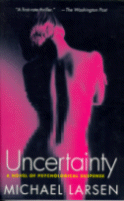 Martin Molberg, a Danish tabloid journalist trying to recover from the unsolved murder of his girlfriend Monique, takes a trip to Los Angeles to attempt to get an exclusive interview with Jack Nicholson, or at least overhear enough at the hotel where the star is staying to forge one. On the plane trip back home to Copenhagen, a very attractive stewardess makes a pass at him, and he starts seeing her once he gets back home -- but still he can't forget his murdered lover. Nor can he get over the photograph of his lover and a strange man caught in a sexual act. As Molberg begins to search for the truth about his girlfriend's possible double identity and her partner in the photograph, he uncovers a sinister plot that revolves around the manipulation of digital images.
Michael Larsen's tale is full of sex and intrigue. Larsen is effective at describing the despair, lust and zeal of Molberg's character, whose mental state is detoriating from intoxicants and drugs. An erotic and engaging techno-thriller.
---
Mystery Reviews
Page One | Page Two | Page Three | Page Four
Page Five | Page Six

Click Here to Return to the Book Reviews Index




---
More from Writers Write
---