Mystery/Thriller Book Reviews
Page Five of Six
Raven Stole the Moon by Garth Stein
Pocket Books, April 1998.
Hardcover, 369 pages.
ISBN: 067100459X.
Ordering information:
Amazon.com.
Two years ago, while on a trip to Wrangell, Alaska her hometown, Jenna Rosen and her husband suffered a horrible loss: their young son drowned in a freak accident. Since then, their marriage has been on the rocks as Jenna sunk deeper and deeper into a devastating depression. One night, after yet another argument with her husband at a party, Jenna takes off, driving aimlessly. Seemingly by chance she ends up taking a ferry back to Wrangell to visit her grandmother's old house and to get some closure about her son's death. Part Tlingit Indian herself, Jenna has heard the rumors of the terrifying Katushka -- half-man, half-otter spirits who steal spirits from the living, especially those who have died by drowning. A series of mysterious events convinces Jenna that her little boy is trapped between the living and the dead, held captive by the Katushka. She enlists the help of a local Shaman in order to enter the spirit world and to set free the spirit of her beloved little boy. What she finds is a terrifying world where danger lurks, and a mother's love may not be enough to save both their souls.
In his debut novel, Oscar®-winning documentary filmmaker Garth Stein creates an eerie and haunting tale about love, loss and grief, and how they can affect people's lives. Jenna and her estranged husband are typical yuppies whose lifestyle is portrayed with vivid characterizations and wry humor. The myth of the Katushka is terrifying and is deftly woven into the family drama so that the supernatural events seem perfectly natural to the story. A very unusual and creative tale,
Raven Stole the Moon
is an engaging first novel which will have readers anxiously awaiting Stein's next outing.
---
Shroud for the Archbishop by Peter Tremayne
Signet, July 1998.
Paperback, 304 pages.
ISBN: 0451193008.
Ordering information:
Amazon.com.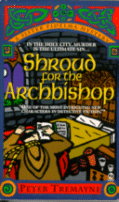 In A.D. 664, the center of Christendom is the Holy City of Rome which is ruled by the Pope and an entire bureaucracy of religieux. Sister Fidelma of Kildare, Ireland, is visiting Rome with a delegation of Saxons when murder strikes. The archbishop designate of Canterbury is found dead in his room and the priceless cache of gifts he was bringing to the Pontiff are missing. For political reasons, Sister Fidelma is asked to investigate, carrying out her function in Ireland as advocate of the law courts. But the investigation is far from simple. Rome, unlike Ireland, does not believe that women are fit to hold jobs or make major decisions, so Sister Fidelma must fight local prejudice against a woman in a man's job as well as the insular opinions and attitudes of the local guards and religieux who have already decided who the culprit is, without any investigation at all. It is up to Sister Fidelma to pursue the truth with the help of a friend, Father Eadulf and the young Roman guard who accompanies them on their investigations.
This is the second entry in this absolutely fascinating mystery series. Fans of Ellis Peters' Brother Cadfael series will be in heaven as they follow the spirited and intriguing Sister Fidelma as she searches for a killer in ancient Rome. The historical detail is rich, varied and vivid and is used to weave an intricate tapestry of ancient life, the place of women in a society and a thoroughly enjoyable whodunit, but ultimately it is Sister Fidelma and her wry humor and strong personality that steal the show. An outstanding example of the historical mystery.
--Claire E. White
---
Mystery Reviews
Page One | Page Two | Page Three | Page Four
Page Five | Page Six

Click Here to Return to the Book Reviews Index




---
More from Writers Write
---