Mystery/Thriller Book Reviews
Page One of Six
The Burglar in the Library by Lawrence Block
Signet, June 1998.
Paperback, 368 pages.
ISBN: 0451407830.
Ordering information:
Amazon.com.
Expert burglar and sometime bookseller Bernie Rhodenbarr is crushed when his current squeeze is forced to break their date for a cozy New England weekend getaway -- unfortunately, she is marrying someone else that weekend. Bravely carrying on, Bernie decides to go anyway and talks his good friend Carolyn into going with him. After all, the library of the charming inn is rumored to have a rare, inscribed first edition of
The Big Sleep
by Raymond Chandler in residence, just ripe for the taking. When Bernie and Carolyn arrive they are met with one surprise after another. The inn and its residents could have come straight from an Agatha Christie novel -- the jolly soldier, the spinsters, the garrulous downstairs maid et al. Then Bernie's ex-girlfriend and her new husband show up, dead bodies start turning up and the guests are all trapped by a snowstorm. It's up to Bernie to solve the murders, find the missing book -- and make it home alive.
Lawrence Block just keeps getting better and better, and
The Burglar in the Library
is convincing proof of that fact. This is a charming and erudite romp where the classic conventions of an English murder mystery are turned upside down with panache. Bernie is a droll fellow whose narrative style is quite appealing. A wonderful escape for anyone who enjoys a bit of irreverence with their Golden Age mysteries.
---
Day of the Dove by Rainer Rey
Ballantine, May 1998.
Paperback, 368 pages.
ISBN: 0449002152.
Ordering information:
Amazon.com.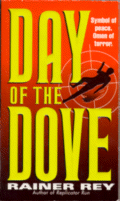 Thane Adams is just days from wrapping up a months-long assignment in Africa filming frogs, when he and his native guide, Kuintala, come across a village in which everyone lays dead in mysterious circumstances. After filming the scene, Adams and Kuintala go to a local mining camp to report the deaths to authorities of a medical relief organization. While at the camp, Adams flies over two other similar villages to film the disasters. When a Geiger Counter picks up radiation from Adams, Kuintala, and their equipment, the group realizes that the villagers were exposed to intense radiation, not Ebola or some other horrible virus. Adams' curiosity in the mystery is piqued by a garrulous member of the medical relief organization's staff. When he returns to New York, Adams realizes he's in far deeper than he ever suspected when thugs posing as CIA agents try to detain him at Kennedy Airport. When Adams finds his agent murdered and meets a woman being chased by the same goons, he realizes that he's caught in a web of conspiracy much larger than he thought. Adams and the lady, Dannielle Wilkes, piece together a plot by a union of hardcore communists of the former Soviet Union and militant Muslims to destroy the United States by using small easily concealed nuclear bombs which radiate intense energy to kill people but leave buildings intact. Before the plot can be carried out, Thane and Dannielle must attempt to penetrate the ring of conspirators and bring in the FBI.
Rainer Ray's story, just released in paperback, is a fast-paced thriller in the vein of Tom Clancy's books. Like Clancy's character Jack Ryan, the ruggedly handsome Adams is thrust into the role of international superhero, utilizing previously unrealized physical force and guile to prevent evildoers from destroying the United States and the world. Exotic locales, a rogue's gallery of antagonists, and a budding romance with a beautiful woman provide all that's necessary for a gripping adventure. This book will make the airplane ride seem very brief whether you travel frequently or far.
--Doug Jacobson
---
Mystery Reviews
Page One | Page Two | Page Three | Page Four
Page Five | Page Six

Click Here to Return to the Book Reviews Index




---
More from Writers Write
---