Mystery/Thriller Book Reviews
Page Three of Six
Hocus by Jan Burke
HarperCollins, April 1998.
Paperback, 463 pages.
ISBN: 0061044393.
Ordering information:
Amazon.com.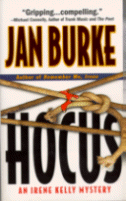 Irene Kelley is a Southern California investigative reporter married to seasoned homicide detective Frank Harriman. One morning the couple has a loud argument and Frank drives off to work. Thinking that they will make up later that evening, as usual, Irene is disturbed when Frank doesn't come home. Her fears are well-founded; Frank has been kidnapped by a bizarre and terrifying group known as Hocus, who until now has contented itself with various acts of vandalism and pranks. Irene is given only three days to carry out Hocus' strange instructions or Frank will be killed. With the help of an expert hostage negotiator and Frank's colleagues, Irene sets out on the trail of the kidnappers' strange demands while the clock is ticking with Frank's life depending on Irene's skills as an an investigative journalist and her ability not to cave in to depression or grief.
Hocus
is an incredible tale of grief, revenge, love and hope. The combination of passion, suspense and a tightly woven, complex plot will have readers anxiously turning page after page to see what happens next. Irene is a complicated and ultimately endearing heroine whose struggles during the crisis are sometimes comic, even as they are heartwrenching. An excellent work from a suberb author.
--Claire E. White
---
Judging Time by Leslie Glass
Dutton, February, 1998.
Hardcover, 354 pages.
ISBN: 0525944044.
Ordering information:
Amazon.com.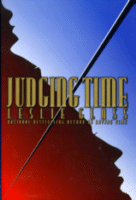 NYPD Detective Sergeant April Woo has not had it easy in life. With a traditional Chinese mother who disapproves of April's profession and a precinct full of old boys who would like nothing better than to see the diminutive detective transferred to parking meter patrol, she has had to learn to be tough to survive. Newly promoted, April is faced with her greatest professional challenge yet when the wife football star turned stockbroker Rick Liberty and a multimillionaire are found murdered in front of Liberty's tony Manhattan restaurant. Although one of the deaths is clearly murder, the other is not. City Hall and the press is screaming for a resolution to the tragedy, especially after #1 suspect Liberty disappears. But April has her doubts about Liberty's guilt and is determined to follow her own trail to find the killer. The puzzling case will take all of April's skills and determination to unravel -- especially in light of all the grief she's getting both at home and at work.
The second April Woo novel will thrill fans of the first book (
Loving Time
) as well as new readers of this fresh and compelling series. April is a woman for the nineties, with all the complexities that term implies. Her struggles to make her mark in a man's world and to come to terms with her American upbringing and her traditional Chinese family are handled deftly and with sly humor. An intriguing puzzle and a captivating lead make this a must-read for police procedural fans.
--Claire E. White
---
Mystery Reviews
Page One | Page Two | Page Three | Page Four
Page Five | Page Six

Click Here to Return to the Book Reviews Index




---
More from Writers Write