Mystery/Thriller Book Reviews
Page Two of Six
Freedom to Kill by Paul Lindsay
Fawcett Gold Medal, July 1998.
Paperback, 306 pages.
ISBN: 0449149943.
Ordering information:
Amazon.com.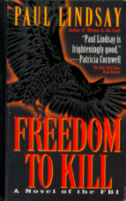 Freedom to Kill
is a thrilling adventure that begins with a terrorist threatening to release Ebola in Disneyland. The terrorist also imposes other threats and violent acts on the nation in an attempt to get the public to lose trust in the nation's security including car bombings, lacing children's medicine bottles with poison and bomb threats against commercial airplanes. The terrorist is like no other FBI agent Mike Devlin has encountered in his years in the Bureau. Devlin, considered a trouble-maker by others on the force, winds up on the case and enlists the help of a computer expert. Together the two began to try and find the elusive murderer and predict his next move before the public loses its faith in national security and the nation surrenders to anarchy.
This is an entertaining thriller because of the realistic characters and the hurried FBI investigation to stay one step ahead of the masterful psychopath, who becomes known as a "cataclysmist" -- a new breed of psychopaths. Devlin, who has a lust for adventure and danger despite the consequences, is a likeable hero. A real page-turner that will keep you on the edge of your seat.
---
Gatekeeper by Philip Shelby
Simon & Schuster, July 1998.
Hardcover, 331 pages.
ISBN: 0684842602.
Ordering information:
Amazon.com.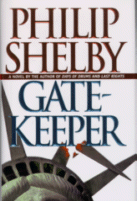 Hollis Fremont, a hard-working Foreign Service officer working at the U.S. Embassy in Paris, France, is in love with Paul McGann, the deputy chief of mission. Because of her love and trust for McGann, Fremont thinks nothing of it when he asks her to do a "simple errand" for him at the last minute which involves forging McGann's name to a requisition form and personally escorting a man to the United States. McGann tells her the man is a harmless white collar criminal, but her escort turns out to be the "Handyman," an assassin who has been hiding out due to a murder that went wrong several years ago. Sam Crawford, a member of the Omega Group, a secret U.S intelligence agency that tracks killers like the Handyman, knows something big must be going down for the Handyman to have surfaced and begins surveillance on him and Fremont, curious as to how she is involved. On the trip to the States the Handyman spots one of Crawford's men at the train station and kills him with a stiletto. Hollis, who witnesses the stabbing, is forced by the Handyman to fly overseas with him all the while wondering exactly who this man is, why her beloved put her up to this and what will happen when they arrive at New York's Kennedy Airport..
Gatekeeper
is a marvelous thriller, jam-packed with new technology and exciting escapes. Hollis Fremont is a believable and daring heroine that the reader will care for. A must-read for lovers of espionage novels.
---
Mystery Reviews
Page One | Page Two | Page Three | Page Four
Page Five | Page Six

Click Here to Return to the Book Reviews Index




---
More from Writers Write