Mystery/Thriller Book Reviews
Page Two of Four
Death in Red Lacquer by Jeanne M. Dams
Walker & Co., June, 1999.
Hardcover, 256 pages.
ISBN: 0802733298.
Ordering information:
Amazon.com.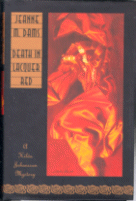 In 1900, South Bend, Indiana, the elite of society were the industrial tycoons, such as the Studebaker family, whose palatial home was replete with extended family and a full staff of servants: think
Upstairs Downstairs
with American accents. Most of the servant class consisted of emigrants from many different countries. Emigrants were tolerated in that time period, but they were definitely considered second class citizens. Hilda Johannsson, a young Swedish woman, works as a maid in the Studebaker household. When she finds a dead body in front of the house, she simply cannot take everyone's advice to stay out of things which don't concern her, and she investigates the crime, using the servants' gossip network to help her. Of course, the trouble with looking for a murderer is that you may very well find him.
Jeanne Dams, author of the award-winning mystery series starring amateur sleuth Dorothy Martin, begins a new amateur sleuth series with
Death in Lacquer Red
-- with great success. Her choice of time and place is quite interesting. In this time period, prejudice was rife and the division between the classes resembled Victorian England more than it does the America of today. For Hilda, a Swedish maid, to investigate a murder of an aristocrat, was unusual and required a very strong, spirited heroine to make the story work. Hilda is a complex character who is as stubborn as she is unintentionally funny. A strong character, her passion for justice shines through. The pacing is steady and the background is absolutely charming, making for a compelling read. Highly Recommended.
--Claire E. White
---
The Devil in Music by Kate Ross
Penguin Books, 1998.
Paperback, 493 pages.
ISBN: 0140263640.
Ordering information:
Amazon.com.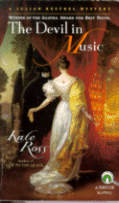 In 1825, Regency dandy and amateur sleuth Julian Kestrel is vacationing in Switzerland when he reads of the reopened murder case of Marchese Lodovico Malvezzi, in Austrian Italy. Intrigued, Kestrel, accompanied by his valet and former pickpocket, Dipper, sets out for Italy to offer his services to the constabulary. The local police refuse his help, but the beautiful widow, Beatrice, accepts it with alacrity. Julian finds himself with no lack of suspects for the crime: the wife, the daughter-in-law with her male soprano lover, a mysteriously missing former protégé named Orfeo (who may have been a French spy) and many others. Julian, by now ensconced in Beatrice's lovely villa, sets out to solve the mystery while pursuing the lovely Beatrice, eating gourmet food and enjoying all the pleasures that Italy provides.
This is the final novel by the late Kate Ross, a talented author who will definitely be missed. Ross had a gift for evoking time and place, and her descriptions of life in 1820s Italy are lush and memorable. Kestrel himself is an absolute doll. It's an absolute joy to watch him sift through the layers of deception and intrigue that are worthy of an opera. Highly Recommended.
---
Mystery Reviews
Page One | Page Two | Page Three | Page Four

Click Here to Return to the Book Reviews Index




---
More from Writers Write
---